How we love it at the Dutch seaside
The Netherlands not a summer destination? Think again! It can be so much fun to visit The Netherlands in summer. When the sun's out there is just so much to see and do. But when it's warm, there's really only one place to go: the beach! And The Netherlands have some amazing beaches, these 7 beaches are absolute must-visits. 
Fun and art in Scheveningen
Scheveningen is probably the most famous beach in The Netherlands and on sunny days also the busiest one. Having said that, Scheveningen is fun and is totally worth a visit. Since it's part of The Hague you can easily combine a city trip to The Hague (and a visit to for example Vermeer's Girl with the Pearl Earring) with some drinks by the beach or a stroll in the sand. Scheveningen is absolutely bustling, with lots of art to see along the promenade, surfing to learn and excellent dining in one of the many restaurants.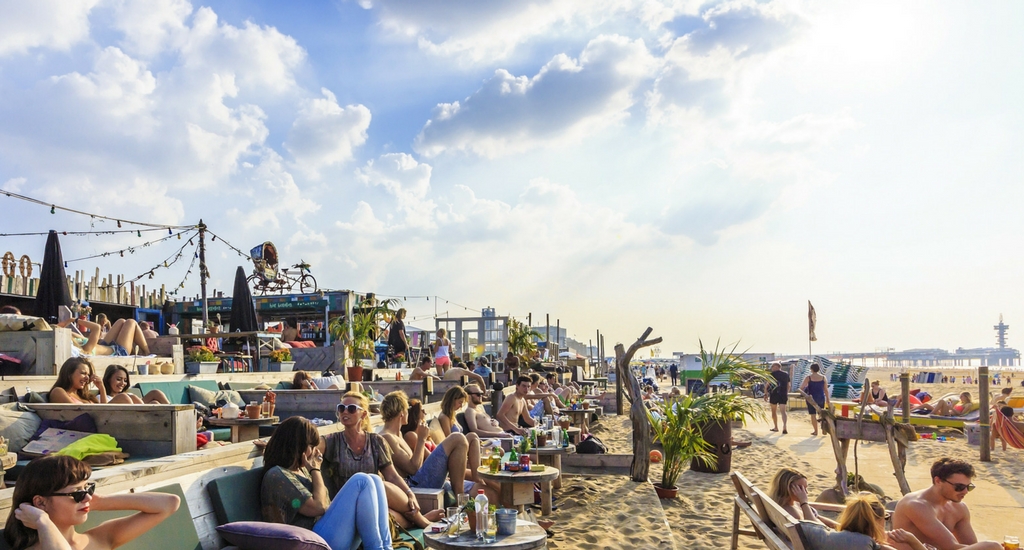 I have written more about Scheveningen and The Hague
Blijburg: Amsterdam at sea
Amsterdam isn't by the sea. But Amsterdam wouldn't be Amsterdam if it didn't just work around that to find a solution, and Blijburg is just that. It's Amsterdam's city beach (and a wonderful one at that) and even though it can get crowded when it's warm, it's worth having a look. It's nice to have a drink with your feet in the sand, but also a lot of parties are hosted here over summer. A perfect place to dance the night away.
Also read
Sun and sea in Zeeland: Cadzand
Nothing says 'summer holiday' for me like the Dutch province of Zeeland does. The province has the most beaches in The Netherlands and loads of Dutchies go here every summer to spend their summer holidays. I grew up not too far from Zeeland, so when I was little, we would often go for a day. Cadzand Bad is one of the nicer beaches in Zeeland and situated in the furthest south-west corner of The Netherlands. The beaches are broad with some very nice beach clubs for lunch and drinks. If you'd like to explore Zeeland a little more, I can highly recommend visiting the city of Middelburg.
Truly enchanting Texel
Until a couple of years ago, not many foreign visitors knew about the Dutch islands up in the north of the country until Texel was featured by Lonely Planet in 2016. Ever since much more visitors have come to appreciate the broad white-sand beaches, rich wildlife and dreamy villages. Texel is a perfect summer destination for families as kids will simply love digging holes and building castles on the beach. It's worth renting a bike on Texel as the island is best explored by bike. You will see sheep all over the island and the wool and sheep cheese of Texel is of very high quality.
Noordwijk: resort at sea
Noordwijk is one of the most famous seaside resorts in The Netherlands, with loads of hotels to choose from if you'd like to spend a night falling asleep listening to the sound of the waves. The beach of Noordwijk is perfect for a stroll, though there are lots of shops and restaurants to entertain you along the boulevard as well.
Fun for all: Katwijk
Historically Katwijk is a seaside resort that was designed for family vacations, but over the last couple of years, Katwijk has rejuvenated and with some nice design hotels and more upscale dining options it has become a place for jet-setters to spend a weekend as well. Personally, I love the broad beach, colourful beach houses and the decent amount of beach clubs to chose from. If you'd like to stay in Katwijk aan Zee, there are many affordable options.
Tranquil Wijk aan Zee
In general Wijk aan Zee is a quiet place to enjoy a few days at the seaside. The beaches are broad and the dunes are wide-spread natural parks, which are perfect for hiking and cycling and are really interesting eco-systems. There's lots of wildlife to spot in the dunes, surprisingly enough really. If you'd always wanted to sleep in a beach hut, Wijk aan Zee is the place to go as Aan Zee Slapen ('sleep by the sea') offers lovely beach huts, comfortable and luxuriously designed. The huts offer everything you need to sleep like a baby by the sound of the waves.
Pin for later!