Sometimes you don't have to travel far to have a great time. Last weekend my husband and I drove to Limburg, the most southern province of The Netherlands, only a 2-hour drive from our home in Utrecht. We had business reasons to be there and decided to stay overnight in a B&B. And we ended up having a fantastic time in B&B Pingerhoeve, in the village of Nuth in Limburg. I liked this place so much, that I would really like to tell you about it.
In all honesty, we weren't looking for a weekend away. On Saturday morning we had an appointment to pick up our new car in a tiny village in Limburg, very early in the morning. We didn't really feel like getting up at 6 am on our free Saturday, so we decided to drive up on Friday night instead and stay the night in a hotel or B&B that was closest to the garage where we were picking up our new car. B&B Pingerhoeve was the nearest place to rest our heads and we were just so pleasantly surprised.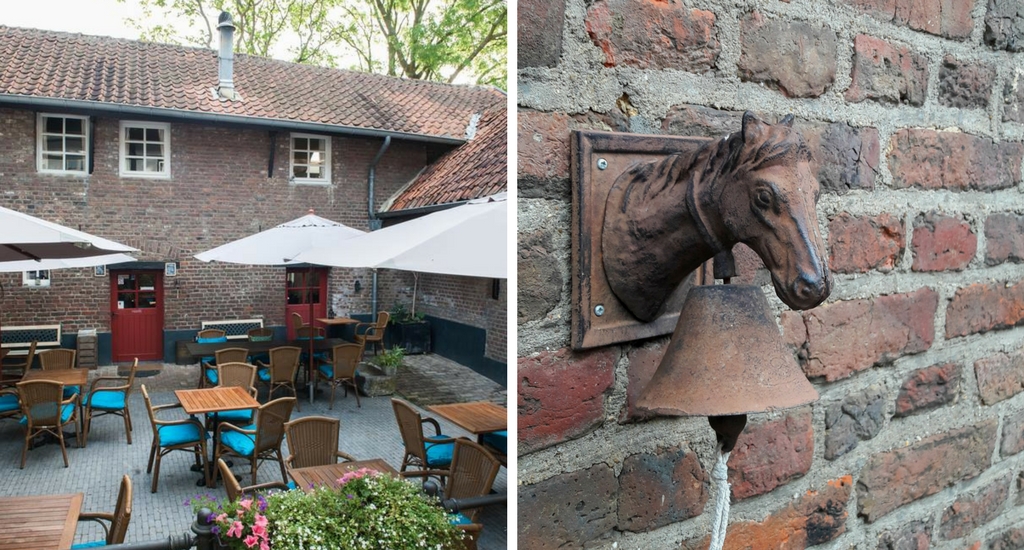 B&B Pingerhoeve is a beautiful B&B and restaurant in the village of Nuth. It used to be what we call a 'carré-farm', a farm built around a square courtyard. It was built in the late 18th century and all the old details are well-preserved, like old beams and brasswork. When you walk into the courtyard you immediately think 'half-timbered house', but it's just so much larger than that.
In 2009 Elsbeth and Bernhard took over Pingerhoeve and started some extensive renovations, turning the grand old farm into a B&B and restaurants, whilst preserving the cultural local heritage. This resulted in large, modern and extremely comfortable rooms, a courtyard to relax in the sunshine and a restaurant to devour some amazing meals. And Elsbeth was able to preserve a little bit of the farm function, as she keeps two very cute horses in the back of the premises, in a large shed. Since this area in Limburg has over 55 kilometres of rider roads, horse riders in need of a rest and refreshments for their horses are very welcome here.
Sleeping at B&B Pingerhoeve
We drive up in the early evening and call at the restaurant where we can pick up the key to our room. Upon entering we are immediately welcomed by some amazing smells. Mmm, Bernard sure can cook. Most of the tables in the restaurant are taken, which is a very good sign in a rather small town like this. Since it's game season in The Netherlands (which runs from October until the end of January) the menu is filled with venison and wood pigeon. Elsbeth shares that the menu changes weekly and that Bernard only uses local produce. Some of which, like jams and preserves, are also sold in the restaurant. The wine list is pretty excellent and my husband samples some locally brewed craft beer.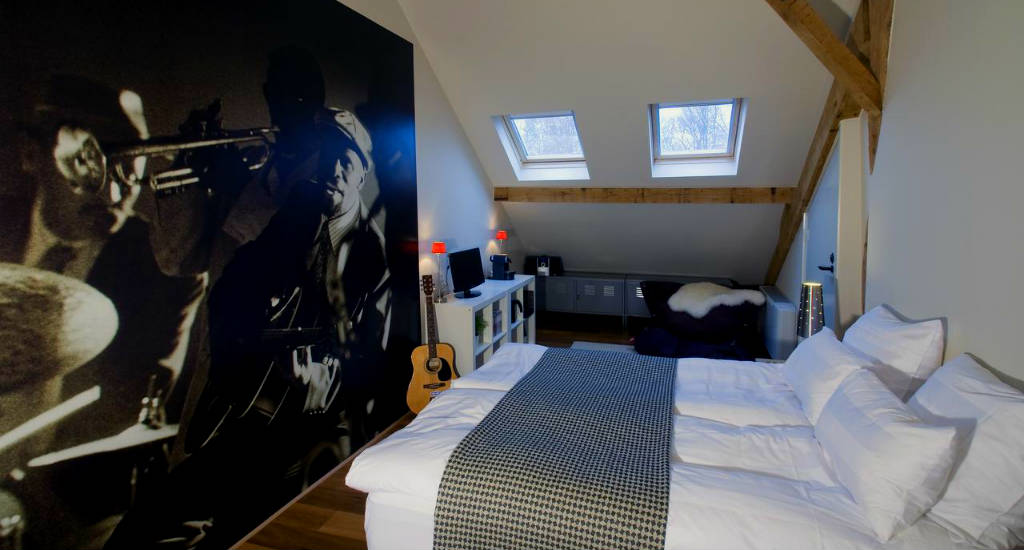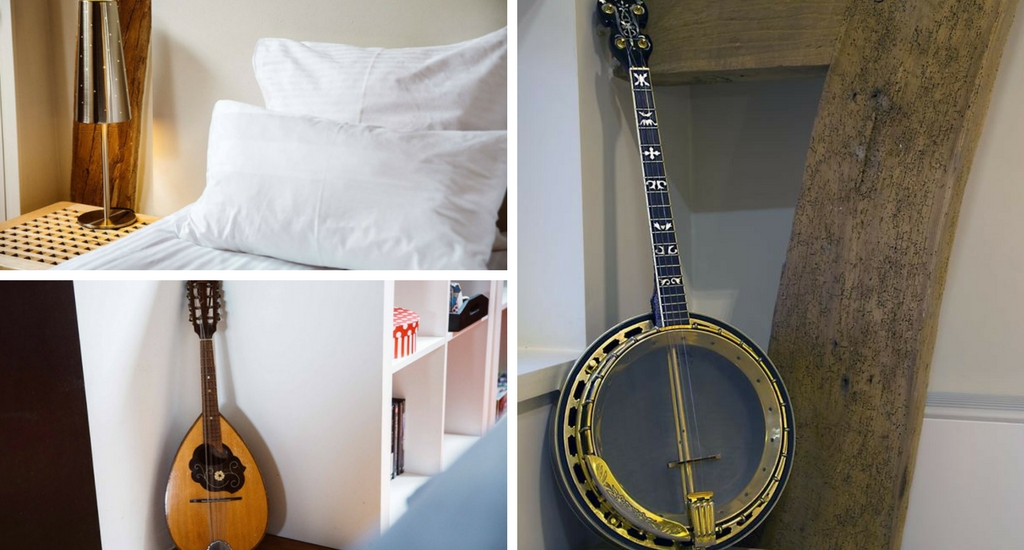 We take our key to our room and are pleasantly surprised to be checked into the Music Room. Both husband and I can't remember which room we booked and also can't recall all the rooms having different themes. The fact that our room happens to be the Music Room is a happy coincidence, as my husband plays guitar in a band in his spare time, I used to play the saxophone and we both love music. Our room is decorated with musical instruments, like banjos and guitars, there is a record player and we can choose from over 250 records to play. Plus, there is a large collection of CD's and music DVD's that we can play. All this is pretty great as it is and the excellent beds with fluffy and warm duvets only add to our excitement. We end up flipping through the records, having a great night sleep and slowly waking up whilst having a cup of Nespresso (there is also a kettle to make tea, but husband and I need our caffeine in the morning).
I remember why I love staying at a B&B so much when we sit down for breakfast. I often stay in hotels in cities where there always seems to be a morning rush with long lines at the breakfast buffet (and why do they always run out of chocolate croissants júst before I sit down?!). Not at B&B Pingerhoeve. Elsbeth brings us freshly squeezed orange juice, a great selection of bread rolls, bowls of fruit, cheeses, cold cuts, scrambled eggs and more yumminess that we can't possibly all eat in one go. I have made some dietary requests, and this was no problem at all. We decide to sit back just a minute longer and have another cup of coffee before (finally) collecting our new car.
You can stay at B&B Pingerhoeve for €95 a night, including breakfast.
What to do near B&B Pingerhoeve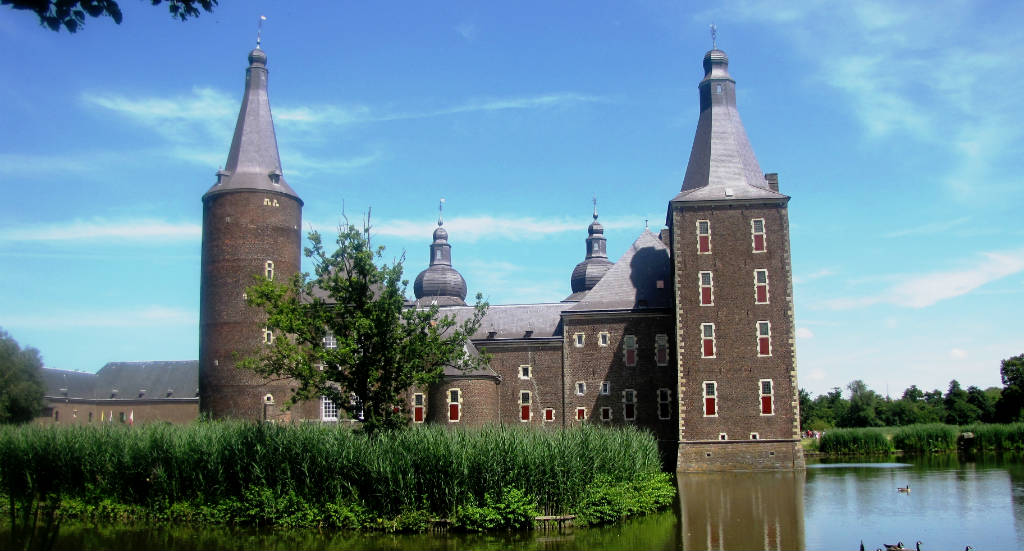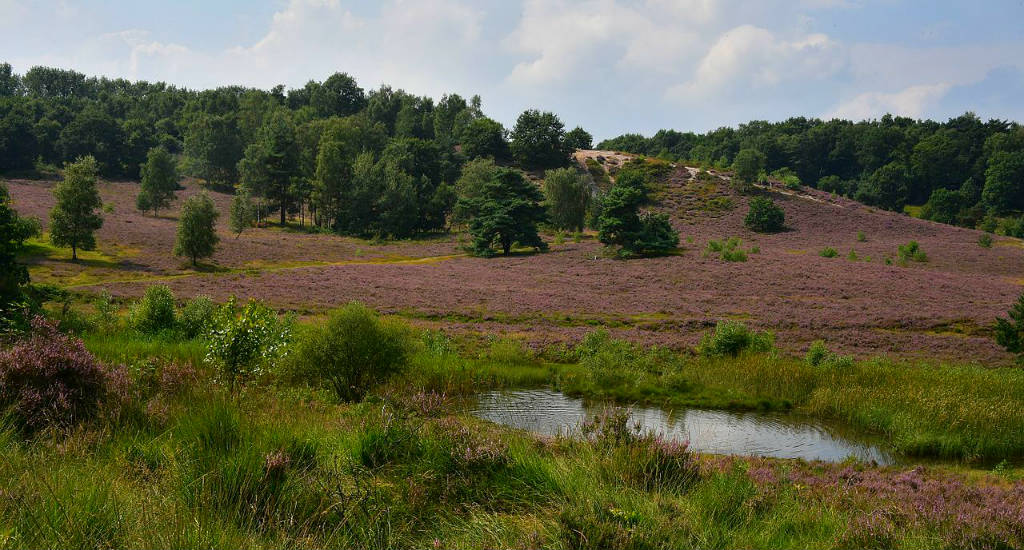 Staying at B&B Pingerhoeve, in Nuth, feels a little like the middle of nowhere. But there is lots to see and do near this B&B. This is my top 3:
Hoensbroek Castle
I think I have already shown you that The Netherlands have some amazing castles and Hoensbroek Castle is no exception. This medieval castle is the largest in Limburg and absolutely worth a visit. You can climb the towers, check out all the beautifully decorated rooms or take a walk on one of the many trails surrounding the castle.
Brunssummer heide
Moorlands. We have so many beautiful moorlands in The Netherlands and Brunssummer heide is only a short drive from the B&B. Limburg is the only province in The Netherlands which isn't completely flat and on Brunssummer heide you can take some beautiful, slightly sloping, walks surrounded by moors and woodlands. You're bound to walk into sheep herds of ancient grave hills.
The whitewashed village of Thorn
I recently visited the white-washed village of Thorn. This ancient village has a historical centre that completely exists of whitewashed houses. The village was built around a 9th-century abbey and the houses were all washed white during the French occupation. A stroll through this town (and a spot of lunch) is a good time spent.
Plan your trip to Limburg
Since B&B Pingerhoeve is situated in such a little village, renting a car to get there and getting around is the best idea. You can simply pick up your rental car from the airport.
If you visit the Dutch province of Limburg, you simply also must visit its capital Maastricht: one of the cosiest and beautiful cities in The Netherlands. In my city guide Maastricht you will find all top things to see and do in Maastricht. Also read Maastricht: where to shop, eat and sleep.
Read all my tips on how to plan your trip to The Netherlands.
Have you (accidentally) run into an excellent B&B or hotel that was actually really close to home?