Yes, I know. These days you simply download the latest bestseller onto your e-reader or tablet when you're out of something to read. But to me, visiting a new country and city also means browsing bookstores. They are the perfect place to visit for a reading traveller. Either to browse some excellent (English!) books on the destination you're visiting or to sip a nice cup of coffee surrounded by the smell of books (I love the smell of books). Don't miss these amazing bookstores in The Netherlands. 
If you've been reading my ramblings here on Your Dutch Guide (and I hope you have!), you know that I am less than modest about how wonderful it is to visit less than well-known towns, villages and cities in The Netherlands. But if there's one thing we Dutch rock at, it's good bookstores. I don't mind boasting a little about this too. Just like in other countries, bookstores have been struggling, since we all started reading on our e-readers (and I do the same, I am not ashamed to admit).
But another, slightly dramatic, development has helped Dutch bookstores to establish themselves once again: even in a time of digital reading.  In The Netherlands lots of historical monuments, like Golden Age mansions and churches, have been struggling for decades to pay for upkeep. Government grants have dried up, leaving property owners and local councils desperate on what to do with these lovely, but often expensive buildings. The solution has been found in bookstores, as they allow for the historical building to keep their unique atmosphere, but give people a reason to come in and browse for a while.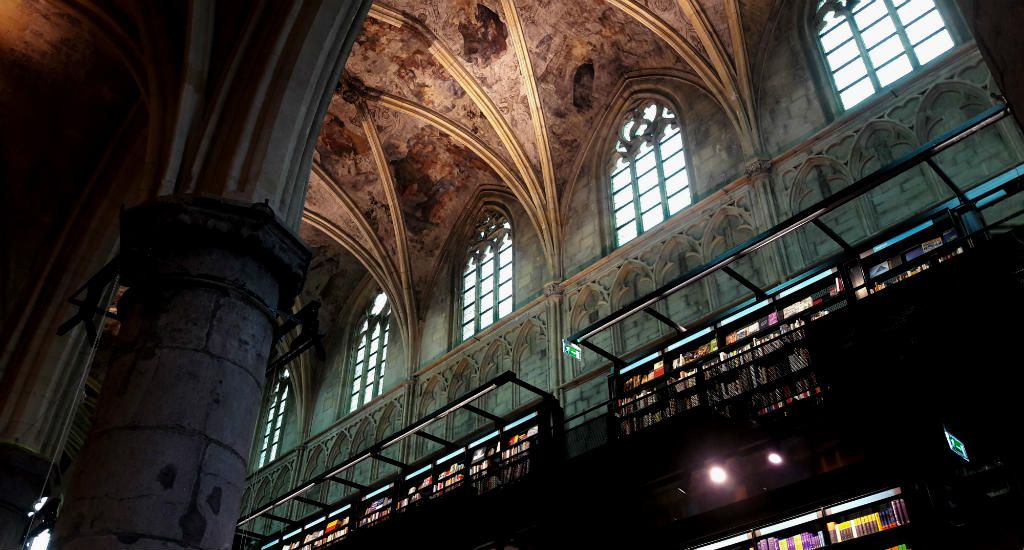 Bookstores in The Netherlands you shouldn't miss
Maastricht: bookshop in the Dominican Church
Picture this: wandering around for hours in a 13th-century Dominican church, taking in the giant gothic arches, ancient frescoes and colourfully stained glass windows, whilst browsing thousands of books and beautiful stationery or having a cup of nice coffee and some cake. Libris bookshop in Maastricht has been voted most beautiful bookstore in The Netherlands, and even the world, a couple of times. And with good reason. The bookshop has been cleverly set up, leaving all the space for you to enjoy the ancient details of the well-preserved building. Can you believe that in the 70's this church was in such a bad shape, there was almost no other choice but to tear it down? I am glad that didn't happen.
Curious about Maastricht? Also read:
Baarn: Den Boer in Jugendstil
Baarn is just a 20-25 minute drive from Amsterdam and is set in a green and quiet part of The Netherlands. But if you're a book lover, bookshop Den Boer would be an excellent reason for a detour. This bookstore is set in a breathtaking Jugendstil building from 1887, with beautifully high, arched windows. Inside the wood panelled interior is the perfect setting for all those lovely books.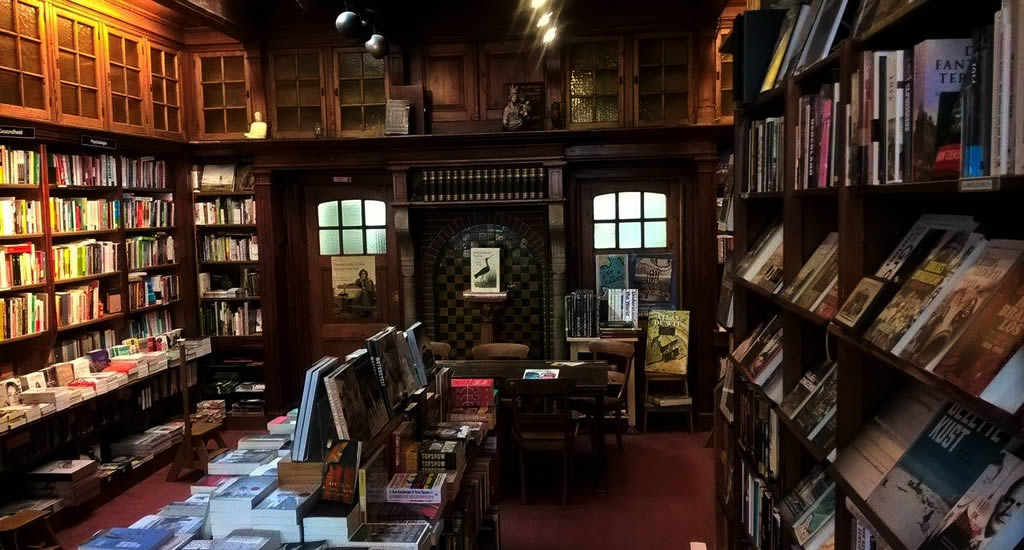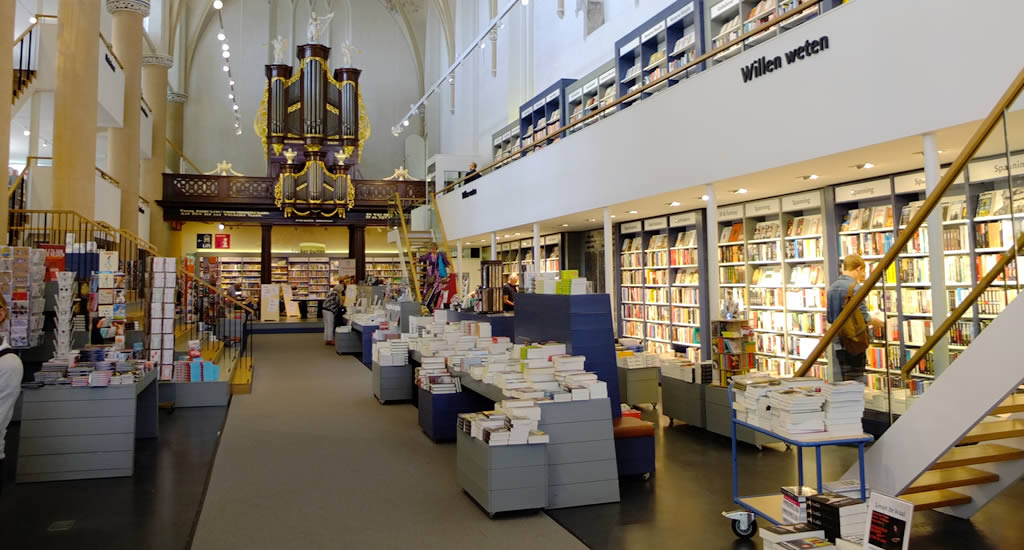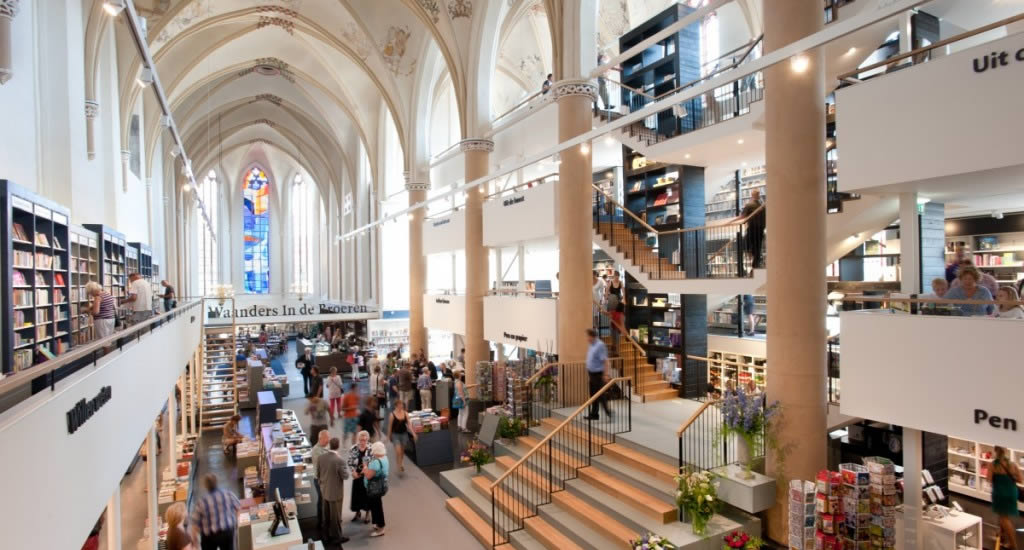 Zwolle: Waanders in Broeren church
Just like in Maastricht, Zwolle has its own bookshop in a church. But the atmosphere is totally different from Maastricht! There is nothing gothic or mysterious about the Broeren church, the interior is bright, light with an impressive large organ in the centre. You can shop for books on four floors and treat yourself to lunch in the Brasserie. You'll soon understand why this bookstore has won a couple of architectural prizes.
Read more about Zwolle:
Middelburg: nifty bookshop De Drvkkery
Even though Middelburg bookstore Drvkkery is located in a beautiful old building on the historical market square, you really wouldn't be able to tell once you walk inside. Clever skylights make this bookshop bright and spacious. The bookcases are placed in half circles, creating quiet areas to have privacy from other customers. In the centre of the store sits the brasserie, which is a great place to sit down with cake, coffee or lunch and start reading your latest purchase.
Curious about Middelburg? Read these articles: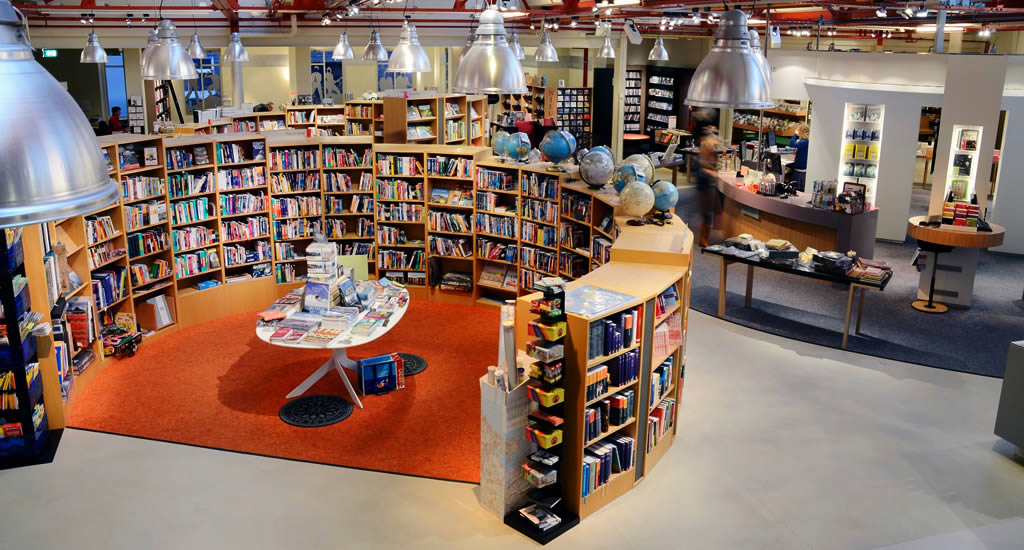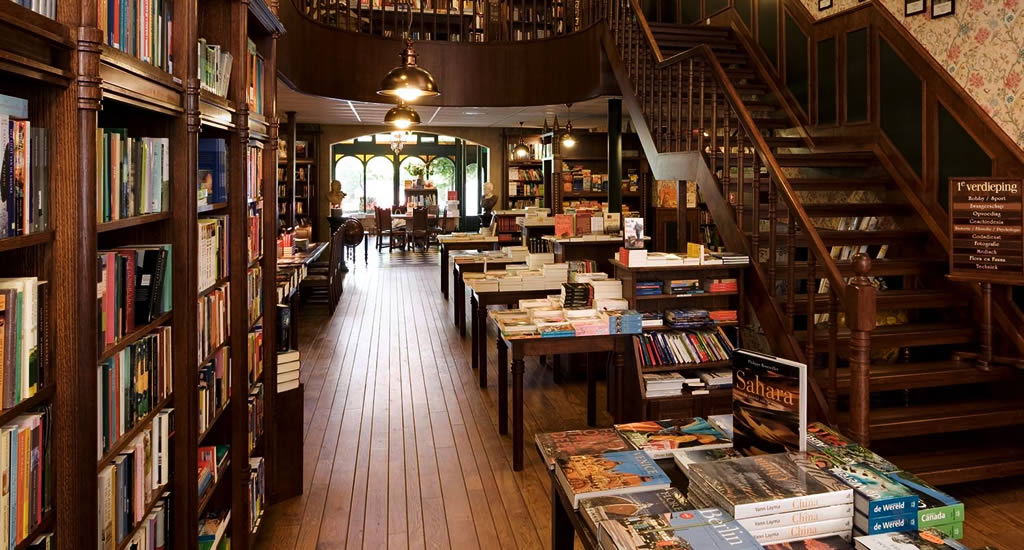 Time travel at Bek Boeken in Veghel
When you're travelling in the footsteps of Vincent van Gogh in the Dutch province of Noord-Brabant, you should take a tiny detour to the village of Veghel, as a visit to Bek bookshop is a must for those who love time travel. The old wood panelled bookshop is stacked from bottom to ceiling with the most amazing books. And while you climb up a stepladder to find something new to read, please look up at the ceilings as they're beautifully decorated. The store also sells everything artists need, from brushes and paint to stationery. You can even buy fine wines and good coffee at Bek.
2 book hotspots in Amsterdam
Amsterdam is filled with lovely bookstores, but I think there are two book-related hotspots that no bookwork should miss.
The first one is the library of The Rijksmuseum. When I saw the library for the first time I thought it was actually part of the museum and only accessible for art historians and important researchers. But it's not. Everyone can just sit there and read, between 10 am and 5 pm, surrounded by the most amazing works and Rembrandt's masterpieces a stone's throw away. Please note that it's not allowed to take pens (no scribbling moustaches on a Vermeer!), so if you need to write something down, have a pencil near.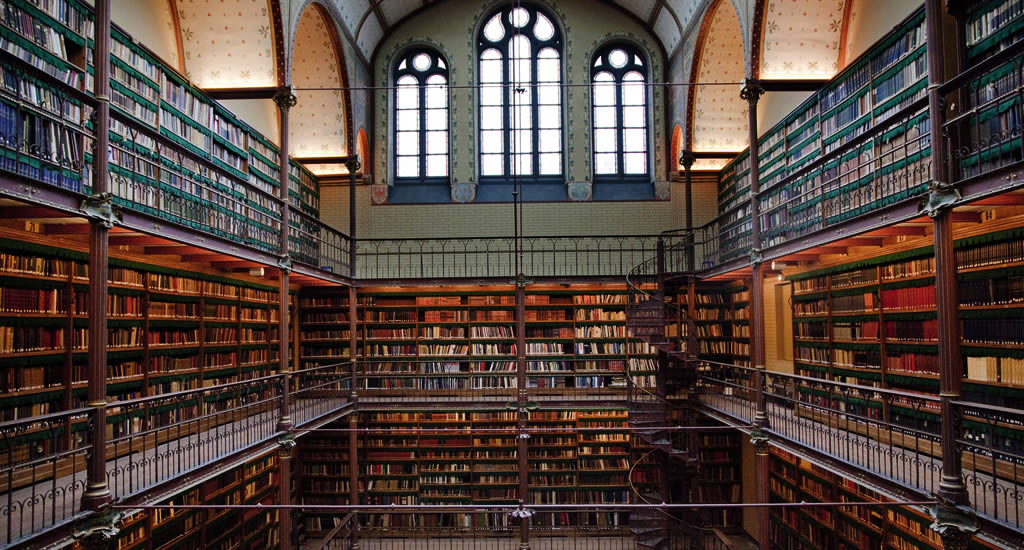 A library and a café all rolled into one? What a clever idea! This is what they must've thought when they opened Café de Bieb. 'Bieb' is what we Dutch call 'bibliotheek', our word for library. The café is a bright and cosy space, filled with vintage furniture and lots and lots of books up for reading on the spot or lending for a bit. The long reading table and fireplace are oh so inviting.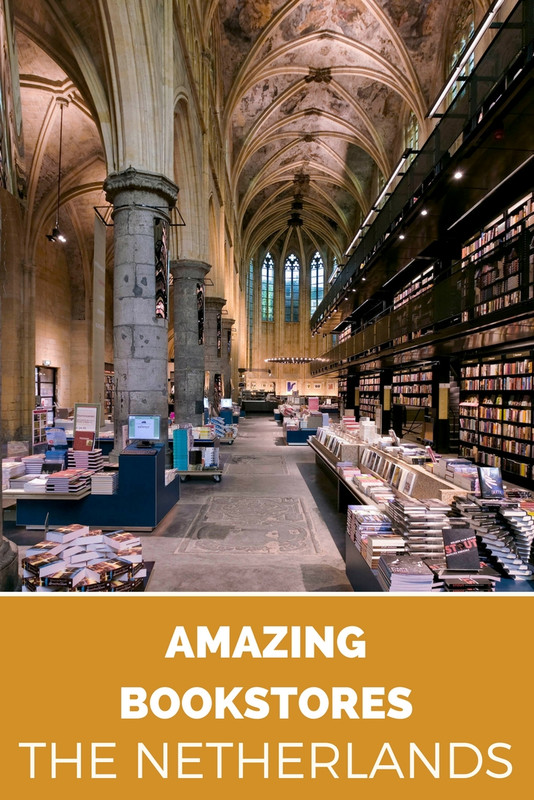 During my travels abroad I have seen some amazing bookshops as well. I think I liked Lello in Porto, Ler Devager in Lisbon and Book Café in Budapest best.
What's the loveliest bookstore you've visited during your travels?