According to travellers
Are you looking for some great accommodation in The Netherlands? Planning a city break to Amsterdam and searching for that special place to stay? Maybe in a cosy B&B or on a houseboat even? Booking.com has just released the Top 10 best reviewed Dutch hotels and B&B's, according to travellers. And wow, yes. Some of these are absolute beauties and I am putting them on my list to try myself.
Booking.com has picked the Top 10 best-reviewed accommodation in The Netherlands based on reviews that over 140 million people left after their stay in hotels, B&B's, holiday homes and apartments worldwide. Only accommodation with a mark higher than 8.0 was eligible to make it into the top positions. Travellers can rate accommodation on Booking.com based on location, comfort, facilities, hygiene, staff and value for money.
Most of Holland's top accommodation can be found in Amsterdam, but the Top 10 does hold some surprises which give you an excellent excuse to discover more of The Netherlands.
The best accommodation in Amsterdam
De Gulde Graaf
Waking up in the morning and being able to just stroll to the Rijksmuseum or Van Gogh Museum. Sounds fabulous, right? Even for me, since I don't live in Amsterdam, this would be such a treat! And De Gulde Graaf is about 900 meters from both museums. Location location location! This apartment is great for a family travelling to Amsterdam, or a group of friends since it has 2 bedrooms with extra large double beds. The light and breezy interior is lovely, but the real treat is the large roof terrace wíth BBQ facilities. Perfect from April to October! Check the lowest rates available.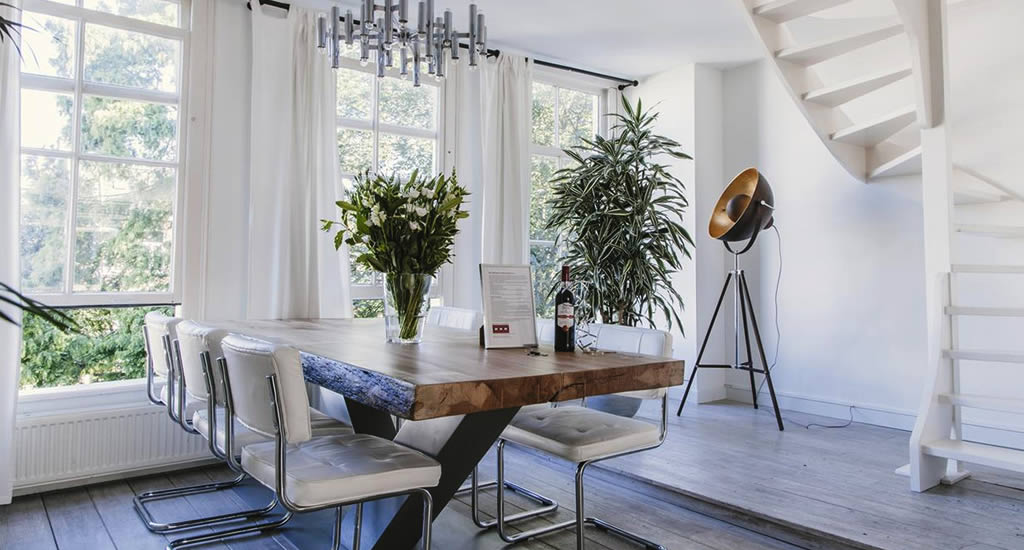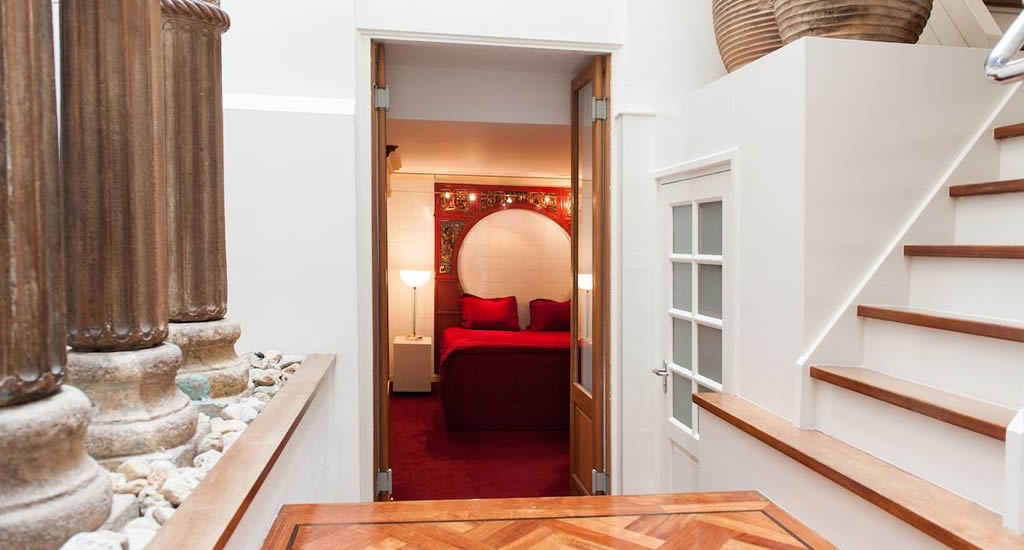 Royal Boutique Apartment Amsterdam
Pampering is what the Royal Boutique Apartment Amsterdam is all about, with an extensive kitchen (so some cooking will be in order after visiting the famous Albert Cuyp market!) and luxurious bathroom with both a shower and a bathtub. Plus, Royal Boutique Apartment Amsterdam is set in a UNESCO World Heritage monument dating from 1635 with illustrious Amsterdam canal views. The apartment has 2 bedrooms with large double beds. Check the rates for Royal Boutique Apartment Amsterdam.
Houseboat MS 3 gebroeders
Staying on a houseboat in Amsterdam, it really doesn't get more Dutch than this. Especially with the location of Houseboat MS 3 gebroeders, which can't be beaten. Only a 5 minute walk to Central Station, with views over the NEMO museum. In the heart of bustling Amsterdam. Houseboats never seem very large, but this one has tall windows, a wooden decor and very reasonably sized kitchen and bathroom. The Deck overlooking the canal and famous sights of Amsterdam is a real treat. Is this one taken? Don't worry, there are more houseboats in Amsterdam to stay in.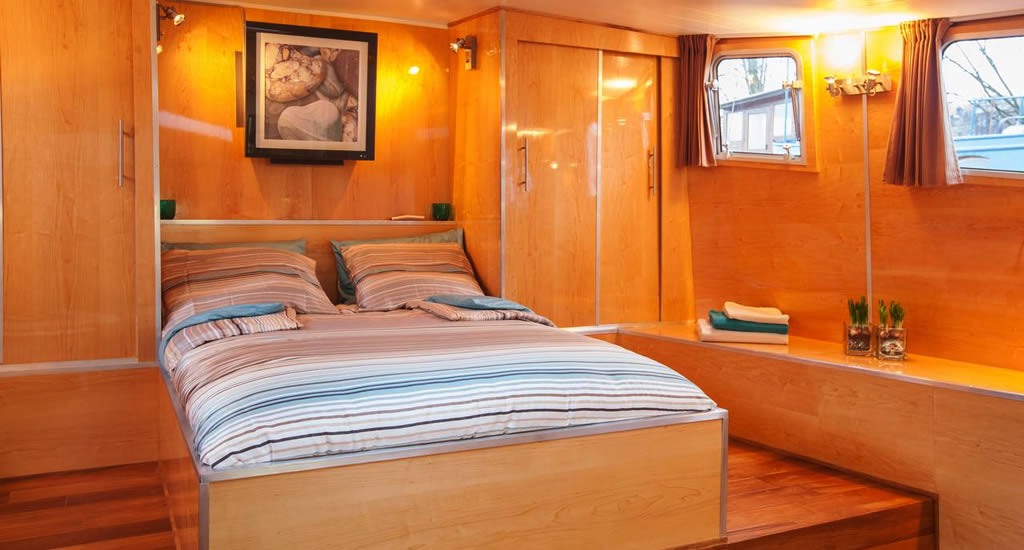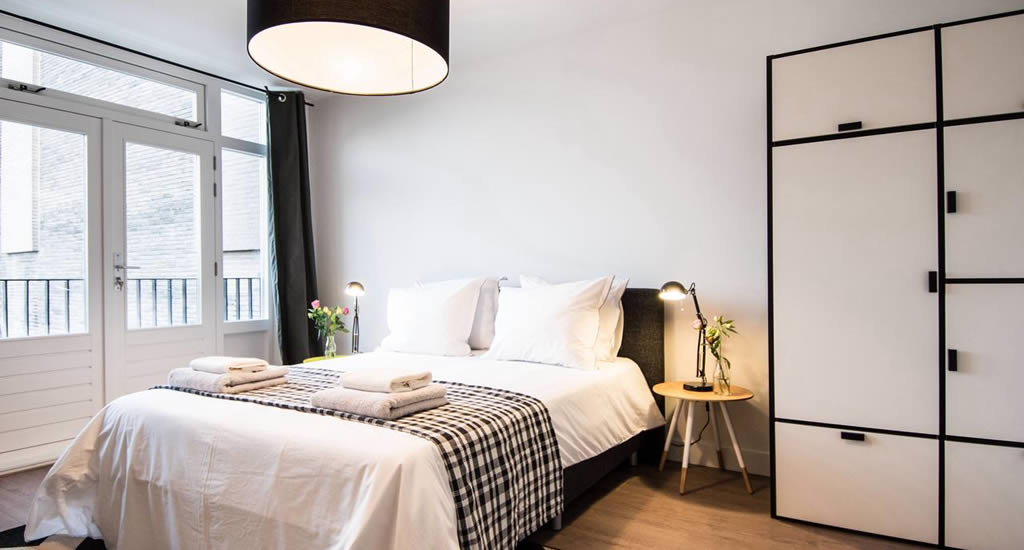 Apartment At Magnelli
Staying near one of the central squares of Amsterdam within walking distance of all the great museums and lively pubs? Apartment At Magnelli offers 2 beautiful apartments, for 4 people, with a balcony or a terrace. Perfect for a longer stay in Amsterdam with family or friends.
Practical information on travel to and in Amsterdam
More beautiful accommodation in The Netherlands
B&B De kleine vesting (Elburg)
This little B&B in gorgeous Elburg made it to no.2 in Booking.com's Top 10 of best-reviewed accommodation in The Netherlands. The typical Dutch look and pretty retro and vintage décor alone will make you want to explore The Netherlands beyond Amsterdam, for sure. It's the perfect B&B to stay for summer because the beach is only a 12-minute walk away. Elburg is part of the Dutch Hansa Towns, some of the prettiest small cities and towns in the east of the country. In my article Road trip in The Netherlands: along Hansa Towns, you will read all about Elburg and other cities nearby.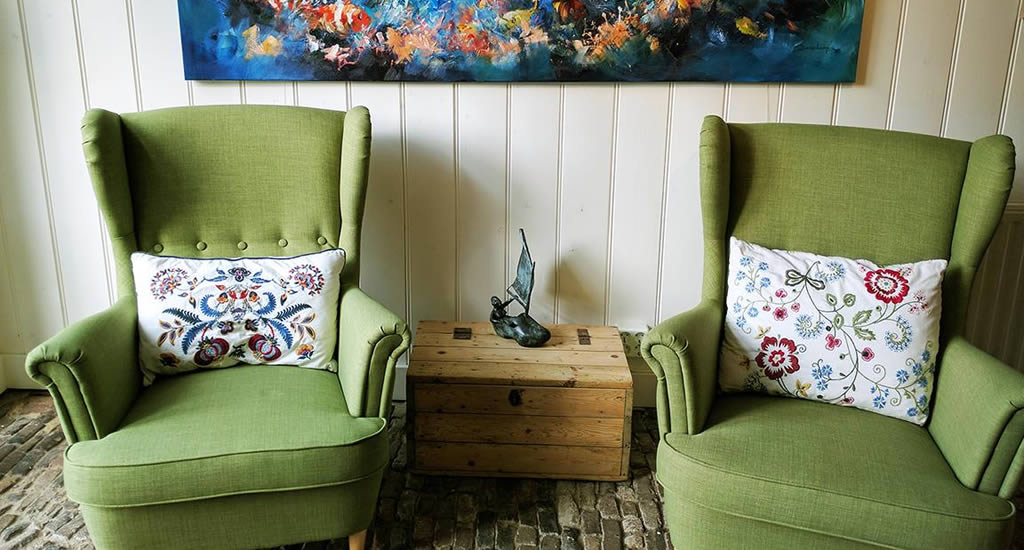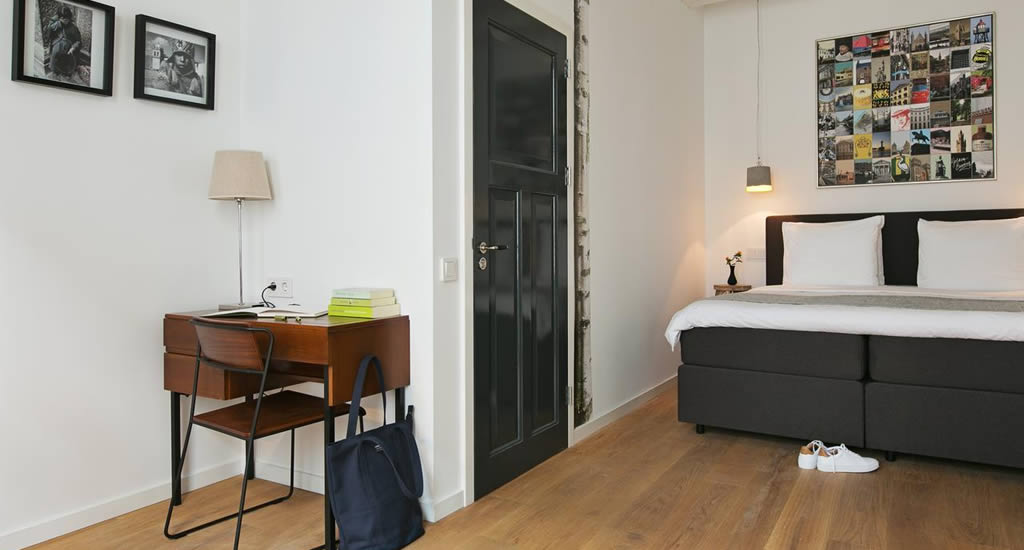 Bacán B&B (The Hague)
The Hague is home to Vermeer's Girl with the Pearl Earring and M.C. Escher's masterpieces and Bacán B&B celebrates these grandmasters with memorabilia throughout the entire place, yet remains stylish and cosy at the same time. A trip to The Hague should be on your list no matter what, as the city is close to the sea (just hop on a tram), has great cafés and restaurant, is home to the largest China town's in The Netherlands and has some pretty brilliant museums.
Read more about The Hague:
Louisehoeve Holiday Home (Linschoten)
If you'd like to plan a trip to get away from it all and you'd like to mix up trips to Dutch cities like Amsterdam and Utrecht with some quiet time and maybe a walk or two in the Dutch countryside, then a stay at Louise Holiday Home is for you. Linschoten is just a small village, not too far from Utrecht. This gives you the perfect opportunity to see both Amsterdam, Rotterdam and Utrecht during your trip. But the setting in the countryside simply begs for some walks or maybe even bike rides if you feel comfortable doing that. The converted farmstead just oozes atmosphere, with old-fashioned Dutch details, though is very comfortable as well.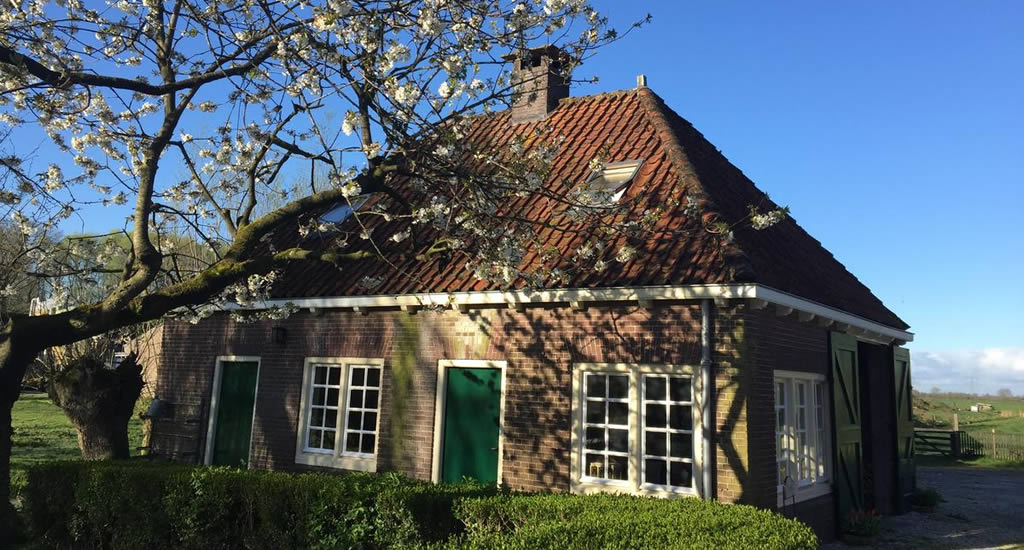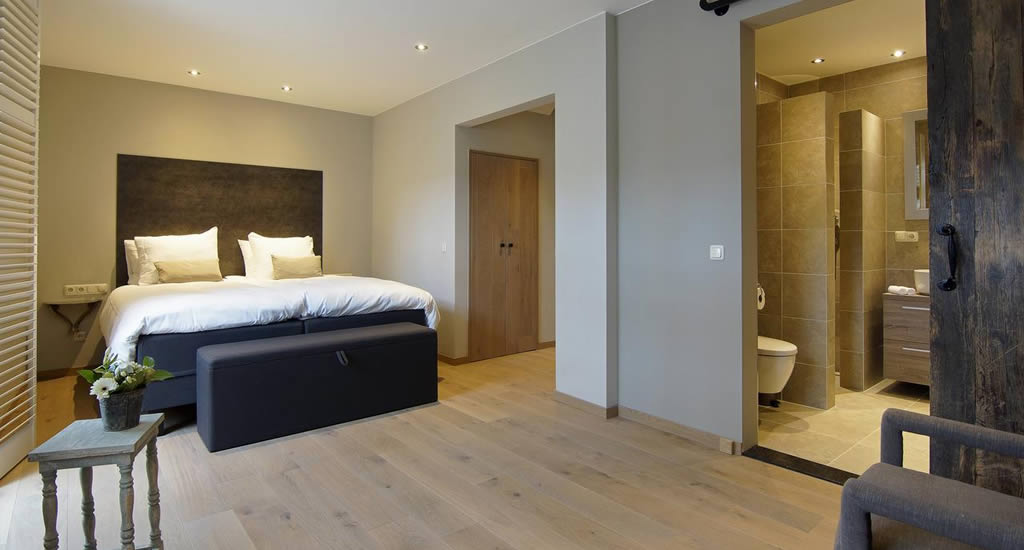 Chambor Chambres (Stevensweert)
Confession time! I had to look up exactly where Stevensweert is, I had never heard of the place. But now I can tell you it's a small village in the north of the Limburg province. One of the loveliest parts of The Netherlands, and the only place in the country to see some modest rolling hills (yes, the rest of The Netherlands really is thát flat!). From Stevensweert it's easy enough to visit the fabulous city of Maastricht and the white village that is Thorn (which used to be a small kingdom!). Chambor Chambres offers spacious and very comfortable rooms and there is a big garden to relax in when the weather is nice.
Rietveld Cottage (Hazerswoude Dorp)
Staying at Rietveld Cottage is going for a full Dutch experience during your trip to The Netherlands, and a perfect location if you'd like to be close to Amsterdam but not actually within the busy city. The typically Dutch cottage is located on a private island and guest can reach it by using the little boat that is at their disposal. The owners also offer free bikes, so you can take bike rides through the beautiful Dutch countryside. The cottage has beautiful old beams and historical details, as well as a large garden overlooking the water.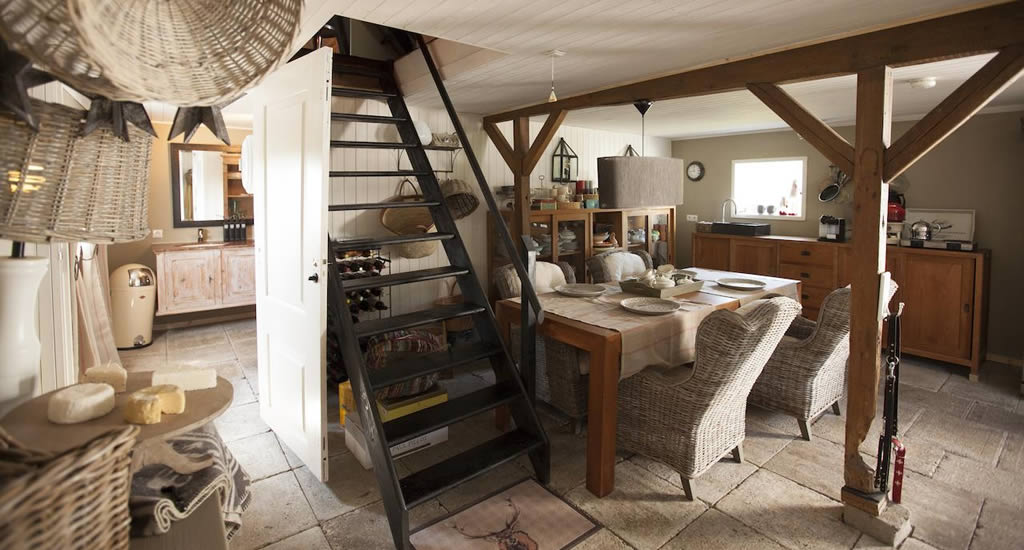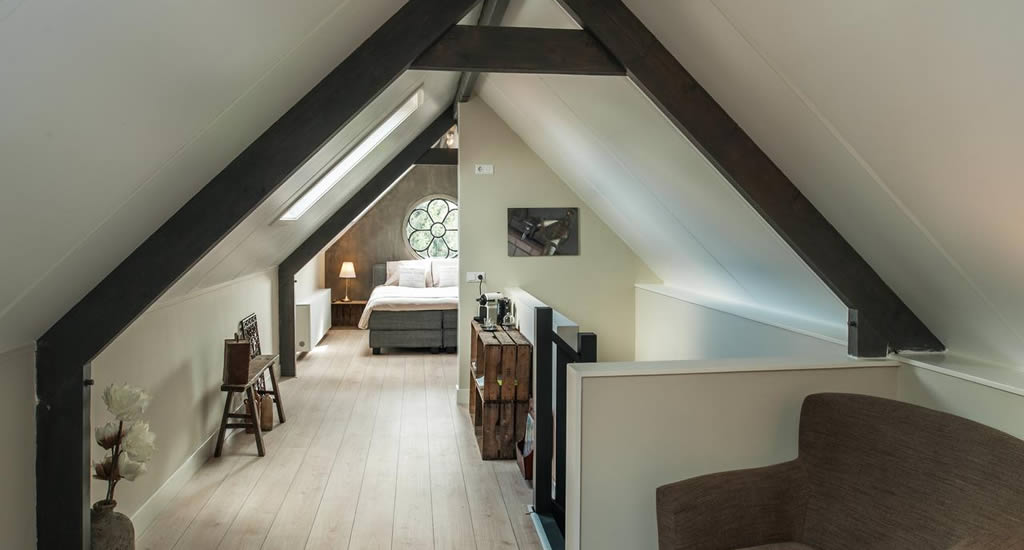 Bed & Breakfast Monument076 (Etten-Leur)
And then there's B&B Monument076 in Etten-Leur. A typical case of 'I grew up 10 minutes from this place and I had no clue it was here'.  Such a shame. Now, the town of Etten-Leur may not ring a bell with any of you, and I really don't blame you, until I tell you that Vincent van Gogh was only born minutes from Etten-Leur in the village of Zundert. And Van Gogh lived in Etten-Leur as well. And both towns are celebrating the life of the famous paintings with museums, exhibits and guided walks as you can read in my article Meet Vincent van Gogh in The Netherlands. Plus, a stay in this B&B is the perfect opportunity to explore the nearby city of Breda, which is one of my favourite cities in The Netherlands. The B&B is set in a historical house, with lots of old details like stained-glass windows. But the real perk is the large garden to relax in after a day of sightseeing.
Pin for later!
So tell me, which of these places would you like to stay in? Or have you stayed somewhere fabulous in The Netherlands and would you like to share? Just drop me a comment!