Canals, we all love them. Don't we? I know I do. Because, where I was born in The Netherlands there are no canals. Yes, you read it. There are places in The Netherlands without canals. Eek! Lucky for me I moved to Utrecht with its pretty canals, so I'm good. If you're a canal fan like I am, I think you should really see these 5 canal villages in The Netherlands. Hint: some of these don't even have streets, just canals.
Giethoorn
Giethoorn is baptised 'Venice of The Netherlands' as it basically has no streets or roads. Just canals. The breathtaking canal system flows past picturesque thatched cottages, giving Giethoorn a true fairytale look. Boats are mostly the main way of transport, as the town is mostly car-free, and that's exactly what you should do when in Giethoorn: take a boat trip.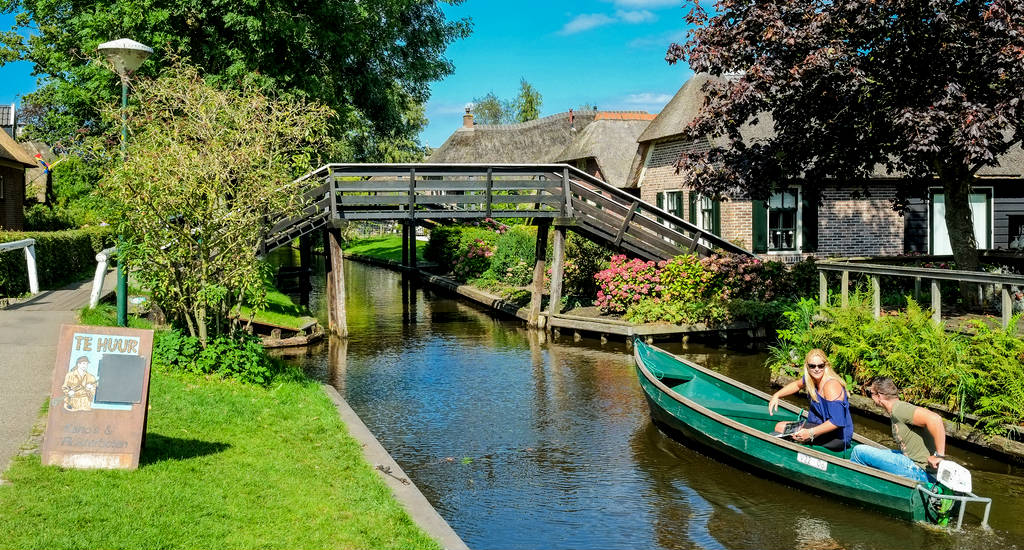 Even though canals are far from uncommon in The Netherlands, the canals in Giethoorn are unique as these were built in the 17th century for farmers to transport their goods and the canals are featured by very high wooden bridges that are tall enough for boats carrying highly piled-up cargo to pass underneath. Giethoorn is most easily reached from Zwolle, which you can reach by train from Amsterdam.
Broek in Waterland
Broek in Waterland is only a 15-minute bus ride from Amsterdam and it makes for a perfect half-day trip from the Dutch capital. With only 9 kilometres from Amsterdam, you couldn't feel any further from the busy city when you take in the old Dutch cottages and small canals. Time really has stood still and inhabitants do prefer their boats over any other way of transport. So, why not rent a boat in Broek in Waterland yourself and explore the canals like a local.
If you'd like to visit more typically Dutch villages near Amsterdam? Read my article 4 villages near Amsterdam you should visit.
Edam
Edam, like Gouda, is one of the 'cheese towns' of The Netherlands. But it's also famous for its traditional Dutch architecture and canals, making it a great day trip from Amsterdam. During the Golden Age Edam was quite an important port for timber and cheese traders, hence the nifty canal system. Walking along the banks or across the historical drawbridges is fun, but taking a boat trip on a traditional flatboat is even better.
Now, Edam is also close to Amsterdam and easy to get to. Just go to Amsterdam central station and hop on either bus 110, 314 or 316 to visit Edam. If you'd like to see more traditional villages in one day, a day trip to Volendam, Edam and Zaanse Schans is for you.
Read all about Edam, The Netherlands: a short break from Amsterdam
Marken
Marken is one of those sights that even Dutch people get excited about and everyone should have seen at least once in their lifetime. The former island of Marken couldn't be more traditional and Dutch if it tried. The town is either reached by bus or by one of the many ferries from the mainland. A visit to Marken gives you a unique glimpse into an old Dutch fisherman's village as the island's traditions are well-preserved. Also, the houses built on stilts or poled to shelter them from the tides, are simply stunning.
From Amsterdam central station bus 315 can take you to Marken in under an hour.
Urk
Another one of these traditional fisherman's villages, that used to be an island, is Urk. Truth be told, Urk is a rather underrated town, even by me to be honest. I think it's partly because Urk is considered to be extremely conservative (don't try visiting on a Sunday, everything will be closed up) and most people speak their traditionally Urkish accent that's pretty difficult to understand. Having said that, Urk is worth a visit as it's one of those really well-preserved Dutch towns. A walk along the ancient alleyways and the harbour, as well as feasting on fresher-than-fresh smoked or baked fish, will be an excellent experience.
To travel to Urk, it's best to rent a car as it takes about an hour to drive there from Amsterdam. You'll be driving through the Noordoostpolder, which is definitely interesting. You can easily combine a visit to Urk with a city break in the gorgeous old city of Zwolle.
Check out more canals in The Netherlands
Seeing some cute canal villages in The Netherlands is easy enough. Most of the canal villages are easily reached by bus from Amsterdam. To travel on any kind of public transport in The Netherlands, you'll need an OV Chip Card which you can charge as you go.
If you're more into larger cities, don't worry! Lots of Dutch cities have canals. Of course, there's Amsterdam, but Utrecht, Amersfoort and The Hague also have beautiful canals to explore.
Where would you like to see canals in The Netherlands?
Save on Pinterest!