And 8 reasons why you should visit Leeuwarden
Leeuwarden is more than just the provincial capital of Friesland, at least, for 2018 it is. As Leeuwarden has been crowned Capital of Culture 2018. You have probably never heard of Leeuwarden, and I really don't blame you. However, Leeuwarden truly deserves the title and there are plenty of reasons to visit this interesting city in the north of The Netherlands. Not only is it a good opportunity to get to know this lesser-known part of the country a little better, Leeuwarden is interesting enough to spend at least a day or two.
Would you like to plan a trip to Leeuwarden and check it out? Use my complete city guide Leeuwarden and you'll be just fine.
Leeuwarden is really easy to get to
Haven't I told you, over and over again, that everything in The Netherlands is easy and quick to get to? Yes, I have. And Leeuwarden is no exception. So, here's how you get to Leeuwarden.
If you are based in the UK, simply fly from London to Groningen (also in the north of The Netherlands) with Flybe. From Groningen, it will take only half an hour by train to get to Leeuwarden.
But, most of you will be flying into Amsterdam as there are more flights a day and often very cheap rates to fly into Amsterdam. From Amsterdam catch a train and you'll be in Leeuwarden in about 2 hours.
To use the train, or any other public transport in The Netherlands, you need an OV Chip Card. Simply charge this card as you go.
You can make a road trip out of it
While you're in Leeuwarden, in the north of The Netherlands, you might as well rent a car and discover some more of the highlights in the north of the country. I think you should definitely check out these 3 highlights in the north of The Netherlands, besides Leeuwarden:
Groningen
About 30 minutes from Leeuwarden is the bustling city of Groningen, one of the most popular student cities in The Netherlands. The city has an exciting nightlife and fabulous shopping possibilities. Check out my city guide Groningen to learn more.
One of the Waddeneilanden
The islands in the north of The Netherlands are called the Waddeneilanden and from Friesland, you simply head to Harlingen harbour to reach the islands of Vlieland, Terschelling or to Holwerd to head to Ameland or Schiermonnikoog. They're listed on the Unesco World Heritage list and for good reason, as the broad beaches, village and polders are stunning.
Pieterburen
The 'seal centre' in Pieterburen not only takes in seals and seal pups that were injured or in need, but treats them in such a way that they can be released into the wild again as soon as possible. The centre also researches threats to the sea around The Netherlands, like plastic soup and pollution. During a visit to the centre, you'll not only see some cute pups but also learn a little about one of The Netherlands' most precious eco-systems.
It's your introduction to Friesland
Leeuwarden is the capital of Friesland, a beautiful and peaceful province in the north of The Netherlands, and a pretty special one at that. Friesland is green, has large open spaces and lots of pretty canals and lakes. A pleasure for nature lovers, who feel a little green-deprived in the rest of the country. Friesland's language 'Frisian' is recognised as an official language, so you will often see signs, menus and even websites in both Dutch and Frisian. If you'd like to learn a little more about the history of the province and the city, best visit the excellent Fries Museum.
The museum consists of thee levels. Start at 'Ferhaal fan Fryslân' gallery and the story about the 11 Frisian cities, which will absolutely make you see what a unique place Friesland is in The Netherlands.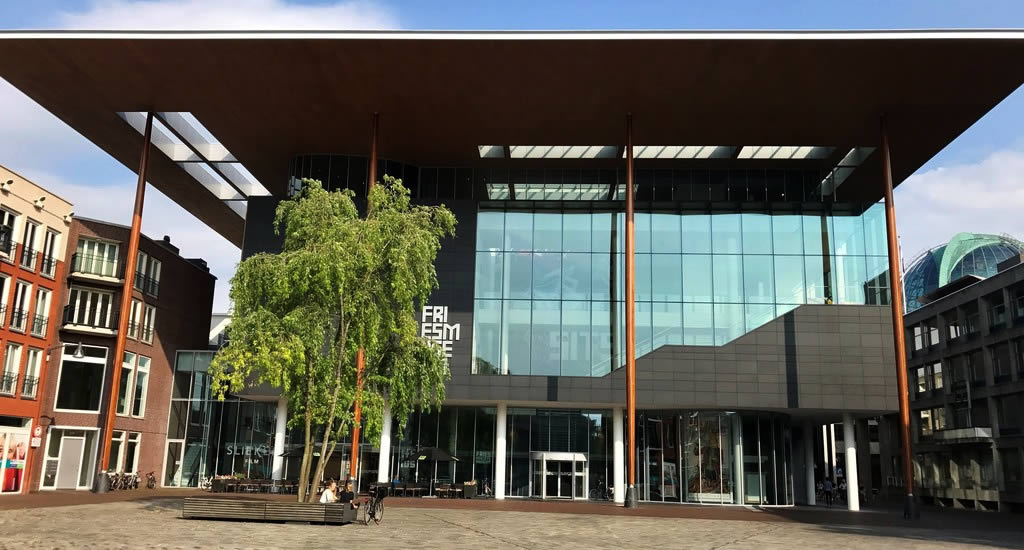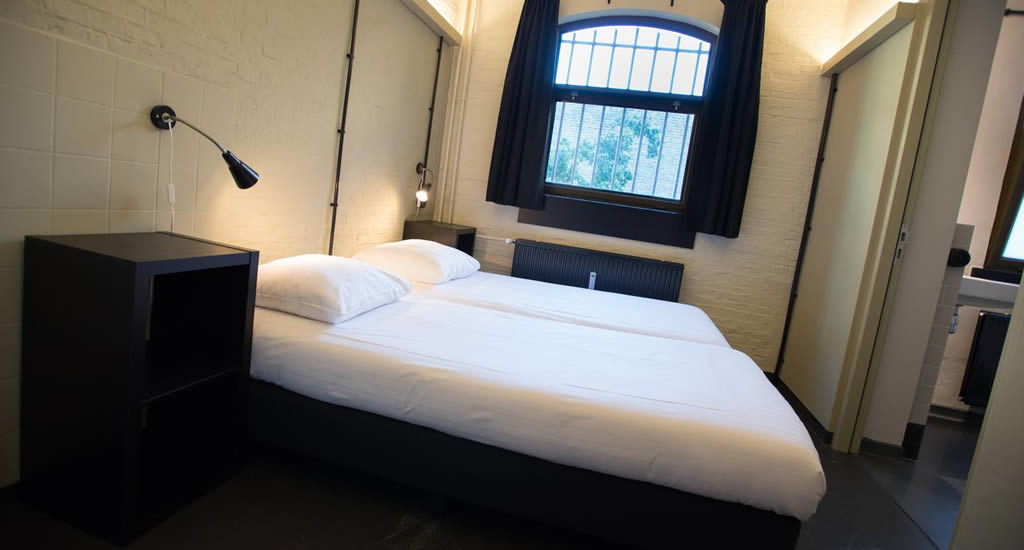 Shop, eat and sleep in Prison
Get out of jail for free. Or get in there, rather. Leeuwarden's Blokhuispoort used to be the city prison until a more modern facility was built on the outskirts of town. The historical building is magnificent, however, and therefore I am so happy to see it was preserved. Since it's rather large it holds many functions. Young entrepreneurs hold offices there, but there are many more options.
First of all, I advise you to have drinks or dinner there, at Proefverlof (which means 'probation', nice huh). Having a drink at the bar or by the fire is absolutely lovely, but it's also very nice to have dinner in one of the old cells. And if that's not enough, why not stay the night in prison? Brand new hostel Alibi has only just opened its doors and offers both bunk beds and double rooms in the old prison cells. But don't worry, everything is quite comfortable.
If you're in luck, you can also do some proper shopping at Blokhuisport. Every 6 months or so, during the Holy Stitch creative festival, (often online) entrepreneurs rent an old cell for a day to sell their goods or host workshops. It's the perfect opportunity to buy some Dutch design or pretty handmade crafts.
You can climb a leaning tower
Before several villages merged in the early middle ages to become Leeuwarden, what now is the edge of the centre was called Oldenhove. And the church, with its leaning tower, was named after this. Now, it's not actually the leaning tower of Pisa, but it's still a pretty church and if you climb the tower, you're rewarded with a pretty view over the town centre and the region.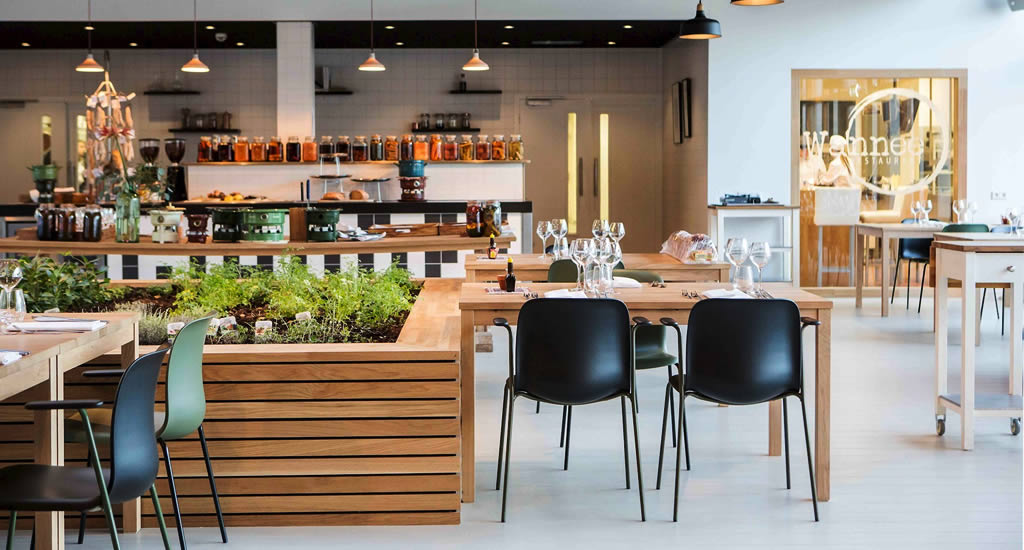 Food is absolutely excellent in Leeuwarden
Now, I can tell you: The Netherlands are pretty good for excellent dining. You may not expect it, but it's true. And I was especially impressed with the high culinary standards in Leeuwarden. You have several fun options for lunch, like Waag in the beautiful old weighing building in the heart of town. And Broodje Bewust is the place for the best open-faced sandwiches, with organic products, and really good coffee.
If you'd like to take some local produce home, I highly recommend visiting House of Taste and buy some Frisian cheese or local craft beers. For dinner, you are spoilt for options. Personally, I loved Sems, which is both a wine bar and restaurants. The plates to share look stunning and taste even better. Wannee is also a fun place. Students of the local hospitality college run the place and offer a 6-course dinner for just €30.
Discover some Leeuwarden street art
At first glance, Leeuwarden couldn't be more Dutch, with its gabled houses, canals and bikes everywhere. But there's a modern side to the city too. You can join a street art walk to discover some pretty good murals around town. Some with historical themes, others with a more modern take. If you can't make the tour, this free map also shows you the best (modern) hotspots in town.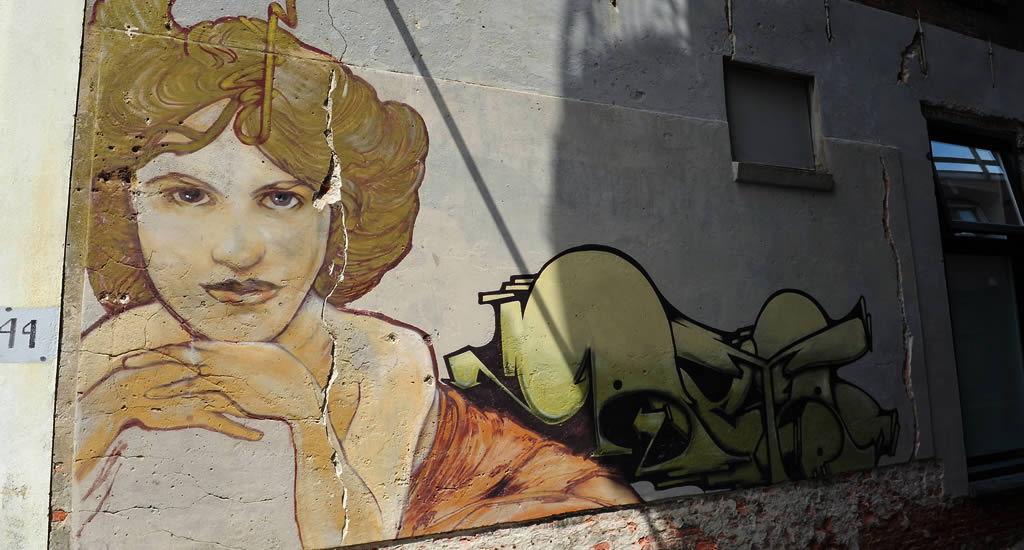 Leeuwarden is for craft beer lovers
Craft beer is immensely popular in The Netherlands. I could probably name craft beers from every decently sized city if you'd quiz me. And Leeuwarden and Friesland are no different. In Leeuwarden, you go for beers with names like Grutte Pier. You can visit the brewery and go for a tasting. Lulk Wiif is also a craft beer from Friesland and is for sale at Priuw, where you can buy the best regional products. Haven't had enough yet, hop into traditional pub Café de Stee (near the train station) for a glass of Oldehove.
Would you like to take a chance and visit Leeuwarden Capital of culture 2018, when visiting The Netherlands?
Pin for later!