Lonely Planet recently declared Rotterdam to be 'the most exciting city in The Netherlands' and if you're into ground-breaking architecture, fantastic restaurants, and high standing museums, Rotterdam should indeed be your next Dutch destination to visit. And when you do, please don't leave town before discovering the neighbourhoods Oude Noorden, Katendrecht, and Blaak. They have a totally different character but are all typically Rotterdam nevertheless.
Oude Noorden: intimate and creative
In the Oude Noorden ('The Old North') everyone seems to be live together peacefully: artists, young entrepreneurs and those Rotterdamians that have been living here since before the war. You'll find Moroccan bakeries in Oude Noorden, as well as brown cafés and hip coffee bars. Discovering this neighbourhood should be on your must-visit list if you're in Rotterdam.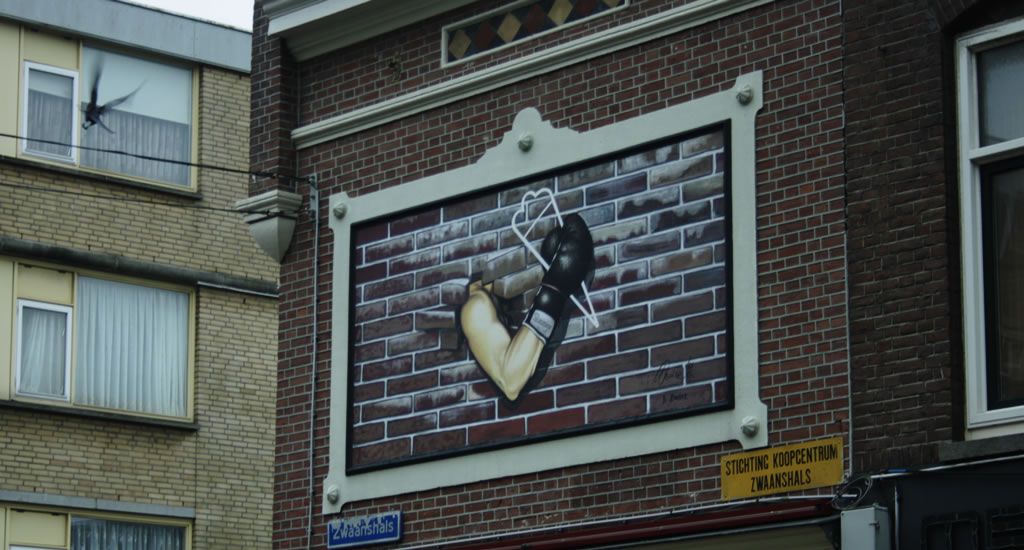 When you get off the tram head to Zwaanhals, a street filled up to the crest with vintage shops, small boutiques and cute cafés. Don't miss Margootjes Vintage for high-quality vintage clothes and accessories, shop the most beautiful organic yarn at Ja, Wol and get your colour fix at Made for you, das Glück where owner Heike always has a broad smile and a cup of coffee waiting for you.
If you're thirsty after all that shopping you walk to Noordplein or Zaagmolenkade. Afhaalpunt is the place for some great coffee and Bertmans has so many great looking cakes on the menu, that picking just one is a pretty tough job.
Katendrecht: food with harbour view
When I first got to know Rotterdam, when I was still a student, Katendrecht was a rundown place, with old warehouses and shady types. Not a place you'd go to after dark, or before dark for that matter. But times change, and so has Katendrecht. If you get off the metro at Rijnhaven, you have to get past truck stops and vague casinos (uhuh, picturesque) before you hit Deliplein. And there, everything starts to make sense.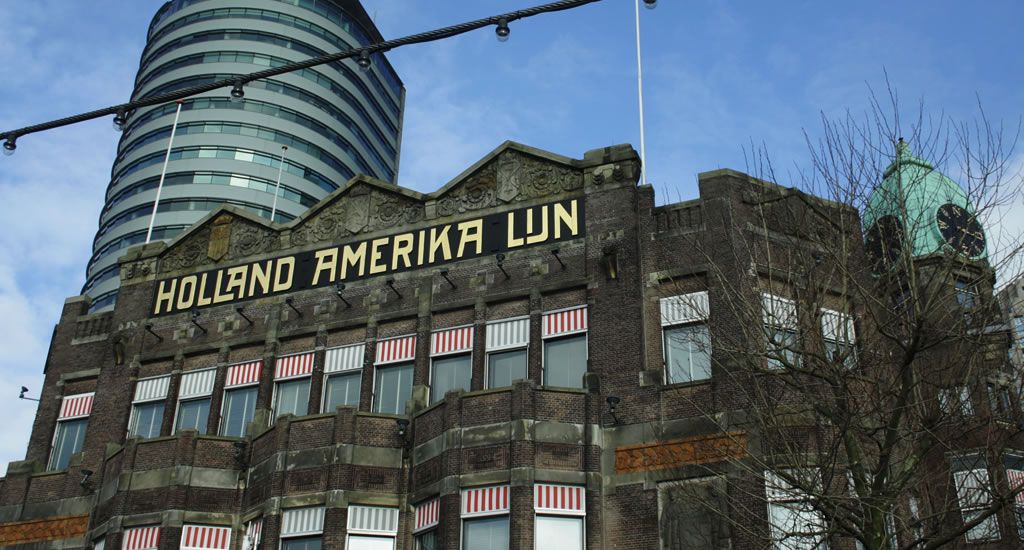 The square always has some food trucks where locals like to hang out and is bordered by many (many!) fantastic eateries. For lunch there De Zeeuwse Meisjes (the girls from Zeeland) which I actually a concept store where you can buy the best Rotterdam-made souvenirs. Upstairs there are a couple of tables, where you can enjoy a sandwich, a salad, and some good coffee. Across the street is one of the happiest looking and best fish restaurants in the city Matroos en het Meisje (the sailor and the girl). For dinner, best book ahead.
But right by the water is the biggest Katendrecht attraction: Fenix Food Factory. Six entrepreneurs decided a couple of years ago to sell their artisan products in one special place. They bought an old Warehouse and Fenix Food Factory was born. You should especially taste the beer of the youngest Rotterdam brewery Kaapse Brouwers. Jordy's Bakery has the best bread and cakes. Cross the footbridge and walk along the iconic Hotel New York to cast one last glance toward Katendrecht.
Cubics and art surrounding Blaak
I'm not from Rotterdam, so I not too sure if Blaak can even be called an official neighbourhood (I suspect not, to be honest since Blaak is simply the name of the train and metro station). But, the fact is that on and around Blaak things are happening. Big time. The iconic cubic houses, built in the 80's, look wonderfully dated and Rotterdam wouldn't be the same without them. Did you know you can also stay in one?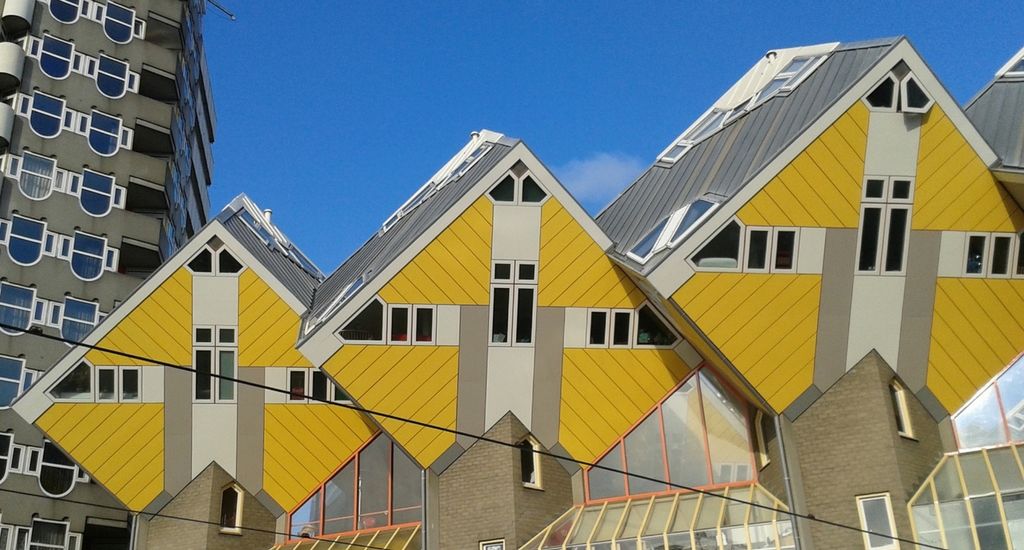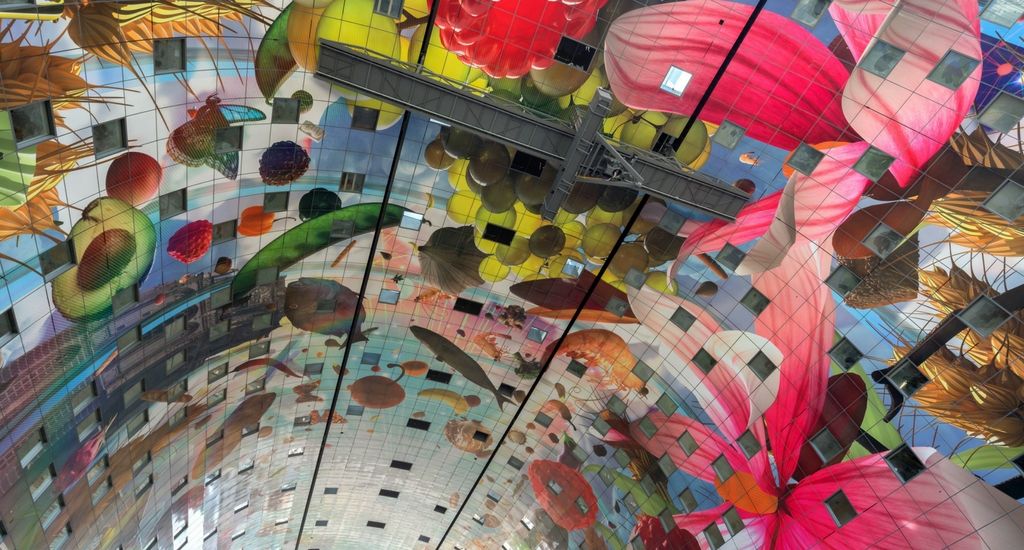 Across the square, the large colourful Market hall is the most famous new hotspot in town and is one of the most prestigious new projects of the last decade, probably. Admittedly, the building and especially the ceiling are breathtaking. Though the stalls and restaurants were a little too bland for me, though it's actually rather fun to see how apartments are built on the outside of the big hall. For lunch or dinner, I'd recommend walking to Posthoornstraat instead and have dinner at Encore or Alan & Pim's. When the sun is out the terrace of the large red boat Vessel 11 is just the best place to be. Just around the corner you visit the Maritime Museum.
Where to stay in Rotterdam: CitizenM
Over the last few year, lots of new hotels have been popping up all around Rotterdam. The CitizenM hotel is a favourite for many, and I must admit: I'm a big fan, as well. The hotel is boutique, but also very no-nonsense. The rooms are not that large, but still feel spacious due to the clever design and layout. And basically, you can operate everything in the room (even the colour of the light) with the iPad on the bedside table. Downstairs there's a lovely bar where you can have a great breakfast or drinks in the afternoon and evening.
Getting to and around Rotterdam
You can fly into Rotterdam/ The Hague airport from many destinations in Europe, like London, Berlin and Barcelona. You can find fares as low as €20! Find cheap flights to Rotterdam. You can simply take the metro from the airport into town.
From Amsterdam or another destination, you can simply take the train to Rotterdam (check timetables at the NS website). From central station, you can either walk or take the tram or metro to where you want to go. You will need an OV card for all public transport in The Netherlands. You can read more about Rotterdam in my city guide Rotterdam.
Read more about Rotterdam
Day trip to Delft from Rotterdam
Want to take a day trip from Rotterdam? Delft is only 15 minutes by train. Check out my Delft city guide or read the article 5x hotspots in Delft, along Voldersgracht.