You may not realise this, but The Netherlands are quite a haven for those who care about their stomachs. Our sweets and cheeses are good, but did you know there's more to enjoy? The east of The Netherlands is famous for its game, while the province of Zeeland is the cradle of some of the best produce in the country. So it's no surprise that its capital Middelburg is quite the culinary gem.
Oysters, mussels and fresh fish are a given when in Zeeland, so close to the sea. But the salty sea air has more in store as it is this air combined with the most hours of sun in the country that are the perfect ingredients for wine. Yes, Dutch (award-winning, I might add) wine, I bet you never thought of that. Add to that the many cheese farms and breweries and you just know you'll be in for a great culinary feast when visiting Middelburg in Zeeland.
I grew up not too far from Middelburg, yet I never visited. But when I did, my my, was I in for a fantastic surprise. Middelburg was a hub for the Dutch East India trading company in the Dutch Golden Age, resulting in the city being a rich place where exotic spices, excellent wines and Port, silk and other trading goods were pretty common. This wealth is still pretty visible when wandering along the historical streets. I feel that the rich soil, the sea air, the oyster banks and mussel farms combined with a history of rich herbs and spices has resulted in restaurants in Middelburg being just that bit more adventurous while at the same time celebrating what's close to home.
During my weekend break in Middelburg, I feasted myself, a couple of times over and was able to extract my 10 favourite cafés and restaurants in Middelburg. Go on and try them.
Middelburg, culinary gem: cafés and restaurants
Honeypie
The perfect place to kickstart your day with coffee and breakfast or go for a well-deserved coffee break with cake. Honeypie is situated just outside the old city walls and locals love to go there. I can see why, as it's much more than just a café. You can grab some knitting and work on a communal scarf or just sit and read while you consume the best cakes, ever.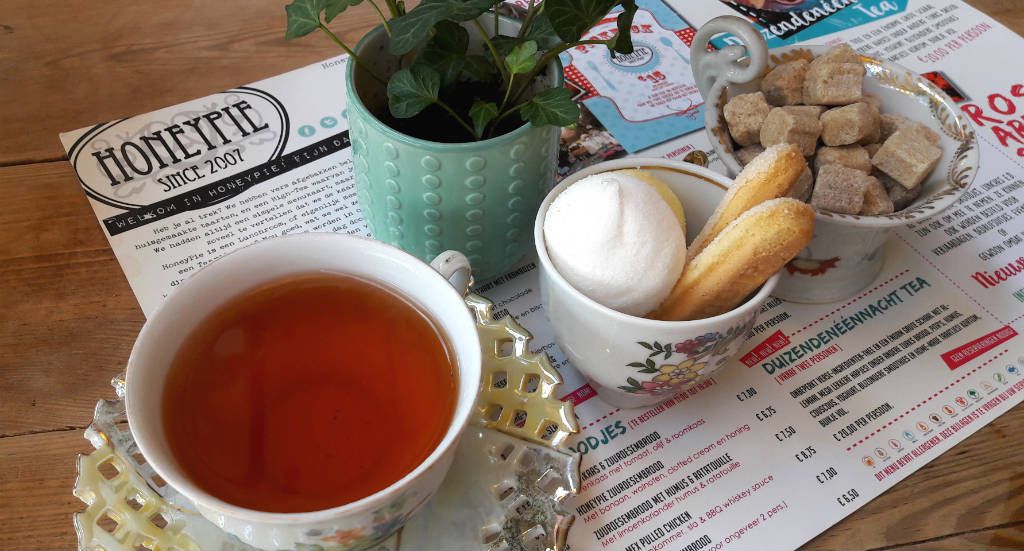 Juice junkies
Apparently, we all need some vitamins every now and then when travelling (though why we can't just live on oysters alone, is beyond me). So pop by Juice junkies when you have the chance and order yourself a healthy green juice or a smoothie made from local ingredients.
Expresszo
A policeman turned barista. That's pretty much the story behind Expresszo. Owner, and ex-policeman, decided to turn a gorgeous abandoned building on Pottenmarkt into his own coffee heaven. His mother makes all the cakes. Also, try the homemade juices and lemonades when you have the chance.
Drvkkery
I have this thing for special bookshops, and especially bookshops that are also cafés (read my article on Amazing bookstores in The Netherlands for inspiration). And Drvkkery in Middelburg is right at the top of my list. Basically, this bookstore is set in a beautiful old building facing the pretty market square. The books are set up in half circles around a café area where they serve the best sandwiches, quiches and salads. A great place for lunch, while you bury yourself in your newly acquired novel.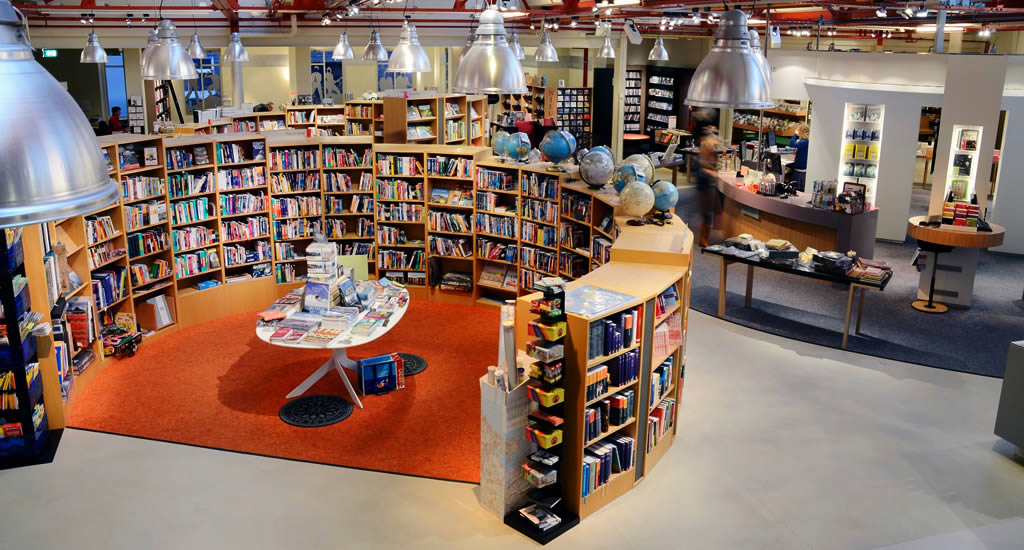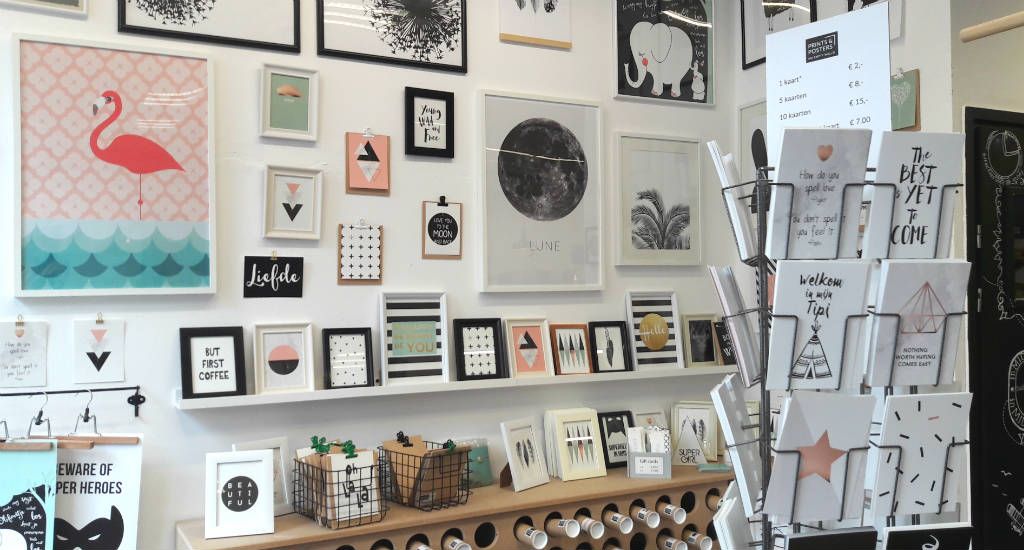 InMiddels
What would we be without concept stores these days? I simply love InMiddels as it's the perfect combination of fun must-haves, like posters, stationery, jewellery and a snug corner to have coffee and cake. Freelancers also love this place to work, making it even more appealing to me (as I often travel by myself for work, and these places are perfect havens). And if you have a bad hair year, get a haircut in the back while you're at it.
Vriendschap
Vriendschap means friendship in Dutch and this warm and wonderful restaurant is near the market square of Middelburg. But it's much more than just a place where family and friends can hang out and catch up over a meal. Most of the produce, used for all the dishes, is grown on the roof terrace of the restaurant. Vriendschap doesn't want to spill any food and a lot of fruit and vegetables are pickled and kept, as you can see from all the preserves on the shelves in the back of the restaurant. It's also the perfect place to sample some local craft beers.
Imagine
Vegans and conscious eating will definitely like the concept behind Imagine. The owners (of course) named their business after John Lennon's song as they not only wanted to open a shop and café, but also leave the world a little better and a little cleaner. Their dishes are made with local produce and tell costumers where the products they've used come from. In the back of the café you'll find a shop that sells local produce without wrappings, to save on plastic and packing material. Imagine is famous for its soups and seasonal salads.
Scherp
I still feel like making an apology to the staff at Scherp for making 'nom nom' noises all through the three courses I had, as everything was simply so amazing. I tried a glass or two Schouwen-Druivenland Blanc+, a dry white wine that is made just around the corner at vineyard De Kleine Schorre. It has just a hint of salty sea air, making this a perfect wine to have with seafood. I am not the only one impressed by this wine, as Dutch airline KLM has chosen Schouwen-Druivenland Blanc+ to serve with their business class menu.
But back to the restaurant and the food now, as both the setting and the menu are a perfect mix of tradition and modern. The Taste of Art crockery has pictures of modern women in traditional dress and looks absolutely stunning. As do the dishes of razor shells, oysters from Zeeland (Zeeland flat, creuses and Dutch imperial oysters) tongue and sole. I tell you, I had to refrain from licking the plate (I do pretend to have some class).
De Gouden Bock
This restaurant is set on a beautiful historical spot and run by chef Martijn and his wife Michelle. The food is honest and beautiful. Martijn only works with produce that is in season and that is for sale at the daily market. Now, that's how I like it. I especially recommend visiting during lobster season when the most amazing lobster dishes appear on the menu.
Vliegendt Hert
A restaurant, wine bar and wine shop all rolled into one. What's not to love really. Vliegendt Hert opened its doors in 2017 and is already extremely popular, and I so get why. The setting is perfect in a house dating from 1575, a little majestically but modern. All dishes look clean and bright and taste just as intense. And don't get me started on the wine!
Plan your trip to Middelburg, The Netherlands
Save on Pinterest!