If you have been following my blog for a while (and I hope you are, hi there!) you know that I am a big fan of painter Vincent van Gogh. A few months ago I discovered a lot of places in The Netherlands where Van Gogh used to live and work. The place that impressed me most was Nuenen, where Van Gogh painted over a quarter of all his famous works. These days Nuenen has been baptized Van Gogh Village, and with reason.
Nuenen is a rather small village, not too far from either Eindhoven or Den Bosch, and it's the place where Van Gogh lived, with his parents, between 1883 and 1885. Whilst living in Nuenen Van Gogh had all the time in the world to wander around and take in the rural scenery. He was struck by the hardworking farmers of Nuenen, their battered faces and their poor, but religious, lives. He often paid locals to pose for him, which they willingly did (even though they thought he was an extremely strange bloke and called him names behind his back).
After only 2 years Van Gogh produced 195 paintings, 313 drawings, 25 watercolours and 19 sketches in Nuenen, which makes up a quarter of his works in total. One of these pieces being the famous The Potato Eaters. To celebrate this, Nuenen is now called Van Gogh Village.
Walk into a Van Gogh Painting
When I say 'Van Gogh Village' don't expect some kind of Van Gogh Disneyland with sunflower rides and starry night themed restaurants, nor some staged 'historical' village. Nuenen is a real village where Dutch life is just as it is anywhere else in The Netherlands (with real Dutch people, parking problems, bored youths and everything!), yet has made a great effort in the last two years to show visitors from all over the world where Van Gogh lived and worked in Nuenen and how he viewed the village whilst living there. Walking around town has become highly informative and feels like walking into a real-life Van Gogh painting, as it were, as many of the landmarks shown in his pictures are still there today. Here's how you meet Vincent van Gogh in Nuenen.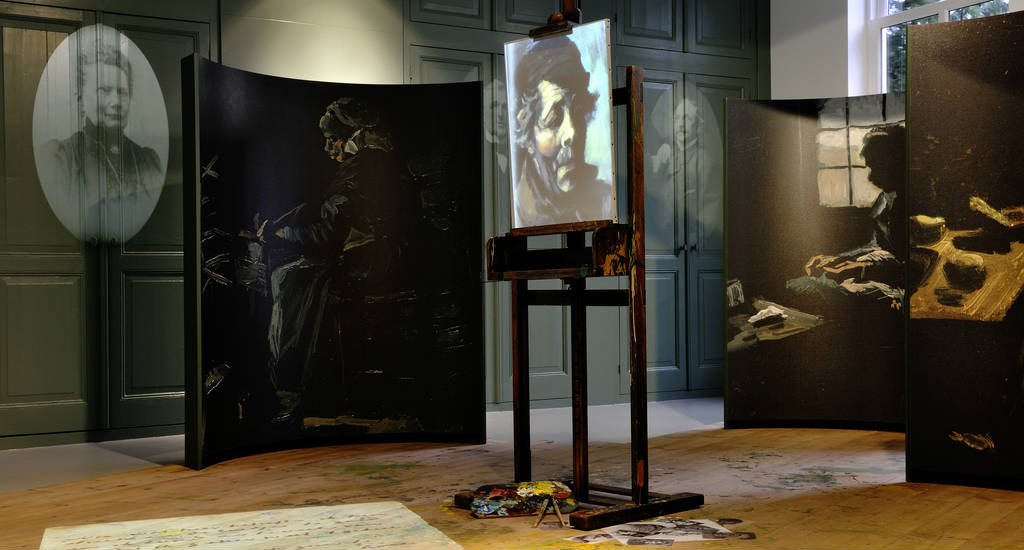 First stop: the Vincentre
Personally, I don't think the Vincentre in Nuenen is just brilliant to learn more about Van Gogh's life, but it's like travelling back in time to see how real Dutch people lived in the 19th century, not just the Golden Age jet-setters of Amsterdam, Haarlem and The Hague. I was born in the province of which Nuenen is part (Noord-Brabant) and from stories of my grandparents I know: everyday life was pretty hard. And visiting the Vincentre is getting up close and personal with Dutch rural historical life. As a tribute to the hardworking backbone of Dutch society.
And in between tired looking farmers, servants and his preaching father was Vincent Van Gogh, a social failure and burden to his parents, walking the streets and fields Nuenen, whilst taking it all in and painting dark, moody and highly detailed portraits and landscapes. Vincentre introduces you to Van Goghs family, the famous paintings he made when he lived in Nuenen and village life during that time.
Van Gogh hotspots in Nuenen
Nuenen isn't a big place, by any means, yet within an hour's walk, you can see 23 spots in the centre of town that were significant to the artist, 14 of which he painted or sketched. Some buildings that he painted are still there. You literally follow his footsteps looking up the 17 information columns. Press the buttons on the columns to get an explanation (in English or Dutch) why this particular spot was so important to Van Gogh and in which of his works this place was featured.
How to visit Nuenen, Van Gogh Village
Pin for later!
Have you ever visited a town or village dedicated to one particular person? Tell me!