And then, all of a sudden, none of us could travel. I came back from Spain right in time, if I would have been a day later, I would have been locked in. So, all in all, I am happy to be home, safe and will stay in for the foreseeable future. And I hope you are too. In this article, I will try and explain the situation in The Netherlands concerning Coronavirus.
The Netherlands was on the verge of Tourist Season starting. The tulips were starting to bloom, the famous Keukenhof Gardens were ready to open their doors. I was planning to go on an alternative tulip route in April, maybe go to Giethoorn with a friend. But then Covid-19 hit The Netherlands, quite hard. Especially the southern province of Noord-Brabant, where I am originally from.
Since then life, as we know it, has come to a halt. We are asked to stay in as much as possible. We're all in this together, however. I've always had loads of respect for people working in healthcare, but even more currently. They're doing the most amazing work under very difficult circumstances.
Trustworthy information about The Netherlands and Coronavirus
I would advise you to Google as little as possible and trust social media even less. Currently, the Dutch government department which monitors and registers all things Covid-19, RIVM, have a very good English website where you can find all the information you'll need.
The most important measures
Stay at home as much as you can. Stay in altogether if you're experiencing as much as a light cold. Runny nose? Sneezing? Coughing? Stay in, please!
We are asked to wash our hands as much as possible, for 20 to 60 seconds each time.
Avoid (large) gatherings in public. Right now, we are advised to practise social distancing and keep about 1.5 meters apart from one another.
Dutch people are not allowed to work outside the house unless it's really needed.
Practical information: update May 18th 2020
Supermarkets, drug stores and most other shops are open. Most shops have a restricted maximum number of visitors allowed in.
Hairdressers, tattooists, masseurs and other 'contact' professions are open for business. You can only visit if you are healthy. If you have a cold or are running a fever, please stay home.
Restaurants are opening their doors on June 1st, but are very restricted. If you'd like to have dinner in a restaurant, always book ahead and ask the staff how they are keeping to the new regulations.
Dutch public transport will start running regularly from June 1st. Though it is advised to only use public transport if you really need it. You will need to wear a mouth mask. Check out the scheduled trains on the website of NS.
When using busses or trams, it's no longer allowed to buy a ticket from the driver or to talk to the driver. So make sure you have an OV Chip Card if you need to travel on Dutch public transport.
From June 1st everyone using public transport in The Netherlands needs to wear a mouth mask.
If you're forced to use public transport, please keep at least 1.5 meters from other passengers.
As you can imagine most, if not all, flights to or from The Netherlands are now cancelled. Please check the Amsterdam Airport website for the latest updates.
Travel to The Netherlands?
Travel to The Netherlands is possible, but not easy. A lot of borders are still closed, the border between Belgium and The Netherlands is still firmly shut. Also, The EU advises to stick to domestic travel for the next months. However, if you feel like visiting The Netherlands, these are some things to keep in mind.
Staying in a holiday house is the easiest way to stick to social distancing as well as enjoying a vacation in The Netherlands. Take a look at the best beach houses in The Netherlands. I loved Landal Sluftervallei, on Texel.
Where to book holiday houses in The Netherlands?
What to visit?
From June 1st museums are opening their doors to the public again, but you are only allowed to visit if you book a ticket in advance. This way museums know for sure they won't get too many visitors and social distancing will be possible when visiting.
The Netherlands most popular theme park Efteling has also opened its doors again, but only a limited number of people is allowed in. Therefore, it's mandatory to buy your tickets online in advance.
In the maintime: do a virtual museum tour!
Virtual tour of Rijksmuseum
Of course, museums have to close their doors as well. But lucky, for us, we can take virtual tours. So let's travel from our armchairs and couches and visit the Rijksmuseum, why don't we. Let's have a look at over 8000 Dutch masterpieces, mostly from the Dutch golden age. Have a good look at all those Rembrandts, Vermeers and Ruysdaels. With no queuing.
Virtual tour of the Van Gogh Museum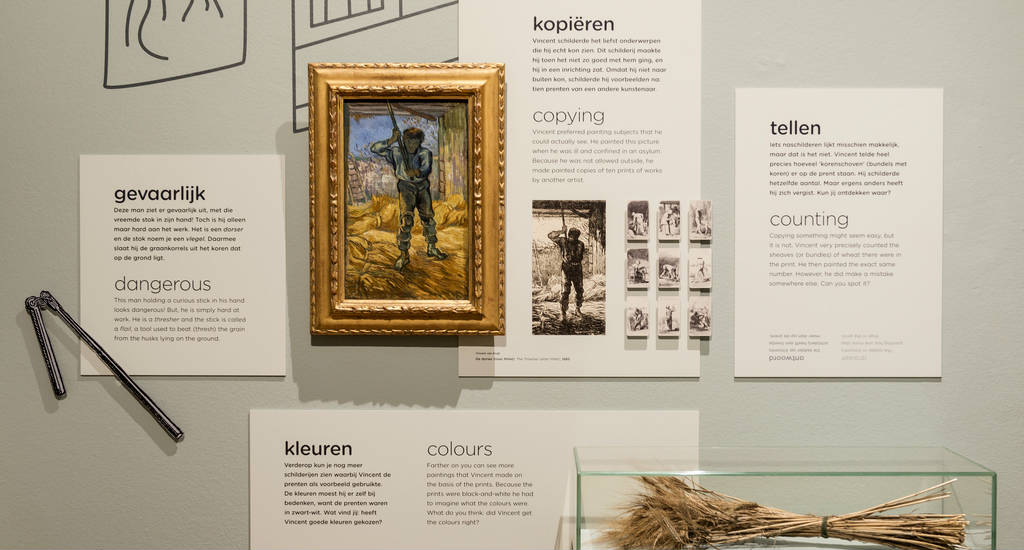 You guys know that I have a knack for the works of Van Gogh. And in normal circumstances, I couldn't advise you enough to visit both the Van Gogh Museum as well as the Vincentre in Nuenen to get to know as much about the depressed and tragic painter as you possibly can. But since that's now impossible a virtual tour and seeing the Van Gogh paintings from up close is just the thing.
Currently, we don't know when travel to The Netherlands will be safe again. But if I know more, I will update this page. For now, stay safe everyone!