To visit Amersfoort on a Saturday afternoon is like a breath of fresh air, to me. Utrecht get quite busy on weekends, with people crowding the city centre for their weekly shopping or getting together with friends. Only 20 minutes to the east, by train, Amersfoort feels more spacious and tranquil. But instead of just heading towards the old part of town, I highly recommend you explore De Nieuwe Stad as well, to discover small boutiques and cutting edge restaurants in old toothpaste and soap factories, as well as a cosy city beach.
When getting off the train in Amersfoort, don't head to the city centre, but get out the back entrance of the station instead. It's only a short walk too Eemplein. A square close to one of Amersfoort's most interesting historical sights, the old city gate Koppelpoort. But if you head in the other direction you will see a completely rejuvenated area: De Nieuwe Stad.
De Nieuwe Stad (which translates into 'The New City') wasn't actually that new to begin with, but a lot newer compared to the historical heart of Amersfoort, which dates back to the middle ages. The area which is now De Nieuwe Stad was developed in the 1930's when toothpaste producer Prodent built its factory and warehouses on the 13000 m² wastelands close to Amersfoort station. In the early 1940's the company expanded and on the grounds products like shoe shine, shampoo and deodorant were also produced. The factory didn't close until 2011 when the production line was moved to France. Not long after the redevelopment of the area started.
Walking from Eemplein along the Eem river, with maybe a short shop in contemporary museum KaDe in your left, you'll notice the change in the atmosphere immediately. Houseboats and flatboats bob peacefully on the small river (you can even stay in one if you like), and you'll reach the small city beach of Zandfoort aan de Eem first. When the sun's out locals gather here for drinks and snacks and it's just a lovely place.
But the real magic starts happening just a little further down the road, where small urban gardens, large pots with herbs and cosy seats are scattered amongst the old brick warehouses and some street art brings colours to the old factory office walls. Where once millions of tubes of toothpaste were produced, now house small and creative enterprises like vintage shops, printers, graphic designers and a bike shop. It all feels like a true community too.
5x must-visit in De Nieuwe Stad
Hoog Vuur
You simply have to have dinner at Hoog Vuur, it's maybe my favourite restaurant in Amersfoort. The restaurant is nice and large, but still very cosy with leather couches and lots of plants. The chefs prepare dinner using local produce only and deliver amazing dishes from the 3 grand wood burning ovens.
Het Lokaal
Het Lokaal is probably the ultimate local supermarket as you can buy the best produce from Amersfoort and its region right here. Fruits and vegetables are stacked high up, but you can also pick some locally made fruit juices or local craft beers. Have a seat in the tasting area and order a coffee or some homemade lemonade and some cake. You won't be disappointed.
Kroast
This is a new kid on the block, as Kroast has only recently opened its doors. It's a great place for lunch and dinner, especially when you can find a seat outside overlooking the river.
Letterpress
This is maybe my favourite small business in De Nieuwe Stad, as the cards, posters, and invitations are printed on presses that are 70 and 130 years old, often on high quality and handmade paper. The designers often print custom designs, but there are also some really beautiful cards for sale.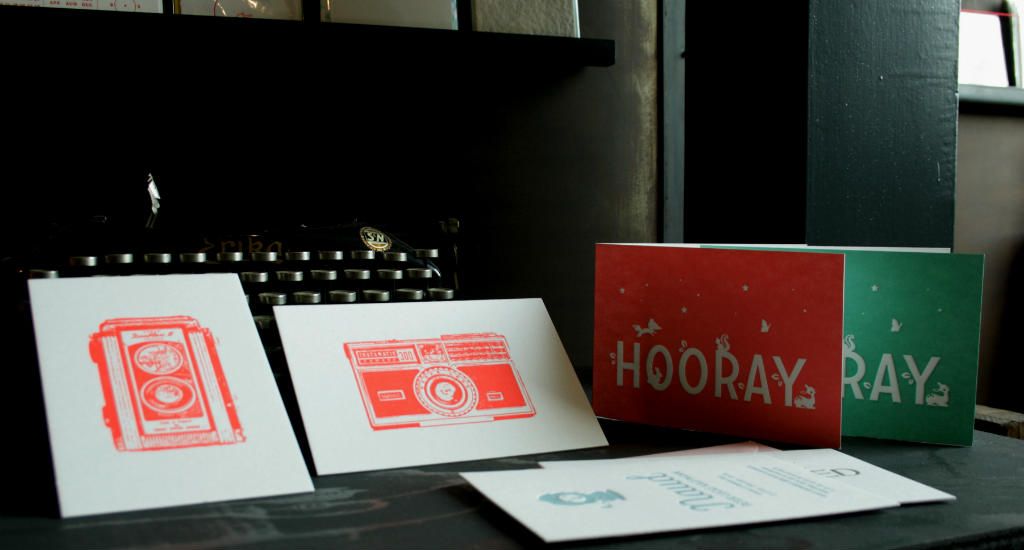 Dara
This restaurants is actually situated on the other side of the river, inside one of those amazingly renovated early 20th century warehouses. When walking into Dara you'll feel like you walked into a little piece of modern Marrakech, as you can order the most amazing middle eastern food. If you can't choose, simply order a tasting menu of all the great mezzes.
You may also enjoy reading