Amsterdam doesn't get closer to her Golden Age glorie than she does in winter. When snow (hopefully) falls, canals freeze, life slows down and wandering along Waterlooplein you can just imagine bumping into a warmly wrapped up Rembrandt on his way to his home at Jodenbreestraat. Winter in Amsterdam is about snuggling up, feasting on the best Dutch cuisine and you can either get 'gezellig' or party the night away at one of the many festivals.
December, January and February aren't the most inspirational months, maybe, to visit Amsterdam. But visiting the Dutch capital during the coldest months of the year has its advantages. Most tourist will prefer warmer destinations, so you finally won't have to share Van Gogh's and Vermeer's masterpieces with tons of others. And it's really the perfect time of year to experience Holland at its best. With excellent, and real (!) Dutch food, ice skating and relaxing together by the fire. Do hop over!
Amsterdam Light Festival
As you may have read in my earlier article, I just have this giant soft spot for light festivals and I feel that Amsterdam Light Festival is as much as a must-see in winter in The Netherlands, as GLOW Eindhoven. Amsterdam Light Festival can be enjoyed from November to the end of January, you can see dozens of amazing light installations along and on the canals and in lesser-known parts of town. It's amazing to watch these works of art from the water or rent a bike to go and see them.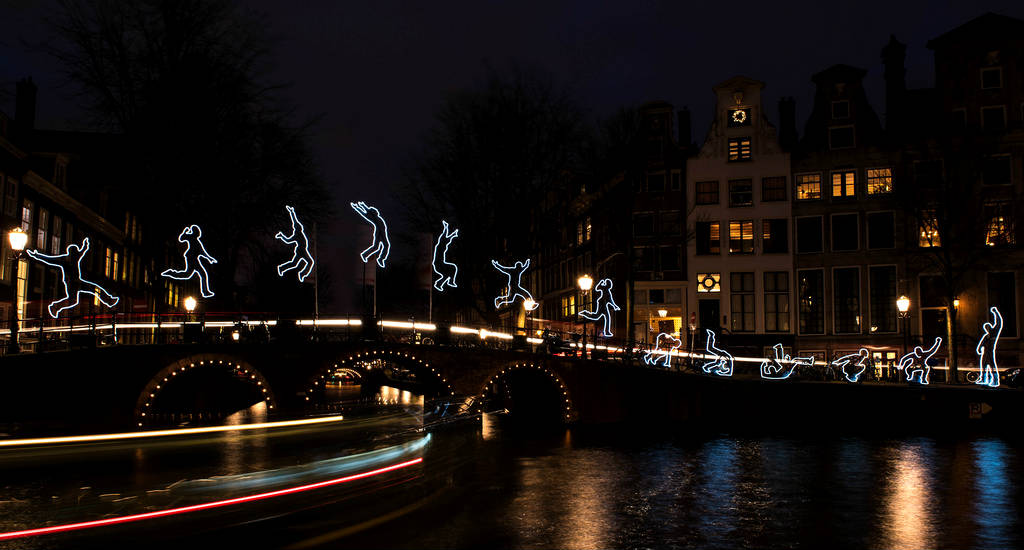 Watch the LIVE renovation of Rembrandt's The Night Watch
The Night Watch, Rembrandt's most famous Master Piece in Amsterdams Rijksmuseum, was ready for a bit of a cleaning and makeover. Not that surprising if you realise millions set eyes on the large painting every year. There's just one problem: restoration of a painting this size can take sometimes years and of course, Rijksmuseum didn't want to deprive visitors of seeing this masterpiece. So, quite spectacularly, it's been decided that The Night Watch is going to be restored in open view, for the world to see. True, you won't be able to see Rembrandt's The Night Watch in all its glory, but it's such a unique experience to see this piece renovated, right in front of you. I'm definitely going to have a peek.
Sit by the fire at Pllek
Pllek is probably my favourite restaurant in Amsterdam. It's based on the still rather unknown NDSM island, which can be reached by free ferry. The restaurant is built in old sea containers and has a fabulous alternative vibe. The menu is excellent, as are the cocktails. The best part: Pllek has a small city beach where in winter a fire roars. So order a drink, snuggle up and enjoy an amazing view over Amsterdam.
Ice skating in Amsterdam
Ice skating on the Amsterdam canals, how much fun would that be? Every few winters we have enough frosty nights for the Amsterdam canals to freeze and get safe enough to ice skate on. Be sure to check if the canals are officially approved for recreation by the city (to avoid scary situations like falling through thin ice).
But not every winter is cold enough for the canals to freeze. Don't despair though if you have your mind set at ice skating in Amsterdam. Every winter lots of ice rinks pop up in town. The best one (in my humble opinion) is the rink at Museumplein where you van ice skate with the Rijksmuseum as a backdrop. The historical Olympic Stadium, which was used for the Amsterdam Olympics of 1928, is also transformed into an ice rink over the winter months and gives you the perfect excuse to visit this amazing hidden gem.
Amsterdam Christmas markets
I am such a sucker for Christmas markets, and although Amsterdam doesn't have as many Christmas markets as you might hope, you, of course, will be able to get your glühweinfix when you come to Amsterdam in winter. The largest winter village is found at the ice rink near Rijksmuseum: Ice*Amsterdam.
When in Amsterdam I highly recommend you visit Amsterdam Noord, and during the holiday season that's where you visit a large Amsterdam Christmas market. The week before Christmas you can shop the best Christmas gifts at Kromhouthal and taste some glühwein. If you're after something less traditional the Funky Xmas Market at Westergasfabriek is just or you. Designers, artists and other creatives sell their awesome creations to the public.
Het Amsterdams Winterparadijs
Though the largest Christmas Market is a proper Christmas Party and is held indoors at RAI: Het Amsterdams Winterparadijs. Because it's indoors, you don't have to worry about wind, rain and wrapping up in 20 layers of clothes. Simply buy some tickets, enjoy some real Dutch winter cuisine, take the kids on one of the rides or go indoor ice skating.
3 typical Dutch winter dishes to try in Amsterdam
'Snert'
Dutch winter isn't complete to me without having home cooked split pea soup. When you leave it overnight (preferably outside when it freezes) we call split pea soup 'snert' and it tastes even better. It tastes like proper winter. Since I can't invite you all over to my house to have my brilliant split pea soup (ha!), I think you should go for some snert at Moeders in Jordaan.
Fondue
Fondue is not typically Dutch, but we do have loads of fondue during the holiday season. It's just perfect comfort food. And it goes without saying that you should go order some at Fondue & Fondue.
Oliebollen
Oliebollen are a typical Dutch treat for winter, and especially New Year's Eve. Oliebollen are deep fried dough balls with a nice layer of powdered sugar. You can also buy oliebollen with raisins and apples. You simply buy oliebollen at stalls all over town (look for oliebollenkramen) or bakeries.
Celebrate New Year's in Amsterdam
Get a bottle of champagne, a bag of oliebollen and you're all set to celebrate New Year's in Amsterdam. A lot of locals will have bought tickets for (overpriced if you ask me) New Year's parties and there's really no need. Wander over to Dam Square, Leidseplein or Nieuwmarkt to count down to the new years. Fireworks are traditionally lit in The Netherlands at midnight and the best place to go and watch in Amsterdam is Magere Brug (skinny bridge) or another bridge over the Amstel river. Check out the New Year's event calendar to plan your New Year's Eve in Amsterdam.
Catch a movie
Amsterdam has the prettiest and the most cutting-edge movie theatres in The Netherlands. There's, of course, the Art Deco splendour of Tuschinski in the centre of town where all the blockbusters can be viewed. Of you can hop on a (free!) ferry behind Central Station and visit the fantastic looking EYE which shows more Art House like films. I recommend visiting EYE anyway as it has a great café to which has an amazing view over Amsterdam.
Get yourself some free tulips
When us Dutchies take down the Christmas decoration and put our Christmas tree on the curb to be collected, we cheer up our sad looking houses with tulips. Most of you think tulips and The Netherlands go together in April and early May, when you can spot the amazing tulip fields, but the fields are meant for bulb production. The tulips for decoration are available roughly half of December (I just bought my first bouquet of the season!) until the end of February.
And if you visit Amsterdam in the 3rd weekend of January, you can even get a free bouquet of tulips on Dam Square during National Tulip Day. Everyone is allowed to pick a couple of tulips for a bouquet from a specially designed 'garden'. What a great way to celebrate our beloved tulip, right?
Take advantage of short(er) queues
You're probably thinking: 'I'm not visiting Amsterdam in winter. The weather will be ghastly, it may rain and freeze and it will get dark at 4.30 pm! I'd rather go somewhere warm!'. Well, just remember that loads of people are thinking that and although Amsterdam is one of the most crowded cities in Europe, currently, things certainly slow down in winter months.
And this is especially great if you'd like to visit the recently reopened Anne Frank House, Van Gogh Museum or Rijksmuseum. You won't have to compete with thousands of others to catch a glimpse of Vermeer's Milkmaid, Van Gogh's Sunflowers or the tiny bedroom where Anne Frank wrote her diary.
Lower hotel rates
Yes, it's a bit of an open door. But because less people visit in January and February, this is the time of year to profit from lower hotel rates in Amsterdam. So you can finally stay in some nice, centrally located hotels without breaking the bank. Try your luck at my favourite hotels in Amsterdam: Lloyd Hotel and INK Hotel. If the rates still make you queasy, I highly recommend checking out Citizen M, ClinkNOORD or i Hotel.
Plan your trip to Amsterdam in winter
Save on Pinterest